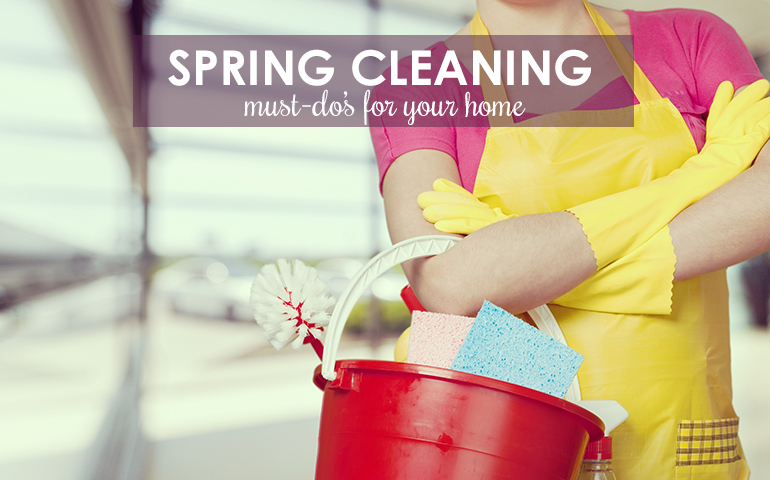 Spruce Up Your Home With 10 Spring Cleaning Musts
Despite Mother Nature's rather impressive attempt to convince us otherwise, spring has sprung! What can you do to chase away the recent memories of an early spring snowfall? Start your spring cleaning, of course!
Soon enough, warm weather and fresh spring breezes will be blossoming all around us. Make sure that your home is as crisp and clean, so that you can spend your spare time enjoying the outdoors this spring!
Here are 10 spots in your home you should be sure not to miss during your spring cleaning:
1. Baseboards
You likely pay little attention to your baseboards most days But, during the spring, they deserve a second look! Baseboards notoriously gather dust and pet hair during the year. A good way to give your home an extra sparkle this spring is to beautify those baseboards!
2. Carpets and Rugs
Go from your baseboards to your flooring during your spring cleaning ritual. When it comes to carpets and rugs, more than your usual vacuuming will be required to give your home that extra fresh feel. Have carpets and rugs cleaned professionally or rent the equipment and do it yourself!
3. Vents
Since you're already gazing at the lower areas of your home, steer your eyes toward your vents. Like your baseboards frequently gather dust and pet hair, so do your vents. Give them a fresh feel by pulling them up and removing grime that has gathered over the year.
4. HVAC
You know what it means, but do you know how to make sure it continues to run as smoothly as possible? To keep your home comfortable during every season, you need to properly maintain your HVAC system. On a seasonal basis, that means changing your filters. When it comes to spring cleaning, you may need to call in a professional to perform a maintenance check.
5. Windows
Once your HVAC system is in check, make sure you're not losing any energy through drafty windows and doors. Seal any leaks, but don't stop there. Give your windows and doors an extra wipe-down during the spring. You'll remove any dirt or build-up your home has accrued during the winter.
6. Curtains and Drapes
Maybe you routinely wipe down your blinds. But, since you're taking things a step further this spring, don't forget about your window coverings! Put yourself on a schedule to wash your curtains and drapes—or have them professionally cleaned. You may not realize how much dust they gather, but you'll notice how much they shine once they're clean.
7. Gutters
When it comes to dirt and grime you cannot see, consider your gutters. All winter long, your gutters collect snow, ice and whatever runoff comes from your roof. Instead of assuming that it all melts away, take some time to clean out your gutters before those April showers pour any more materials into them.
8. Appliances
Feel like we're doing a little cleaning out when it comes to spring cleaning? You're right. So, don't forget about your appliances here. Just as dust gathers on your windows or gutters, it also gathers behind your major appliances. Enlist the help of your spouse or a friend and move your appliances to clean behind them.
9. Refrigerator and Freezer
Don't stop by simply cleaning out behind your big appliances. Get into them also. You may regularly clean out your fridge or freezer, but give them both a thorough cleaning this spring. Remove any items you haven't touched in months. The chances are that you will not be using them—and you probably wouldn't want to!
10. Garage
Now that you've taken care of the inside of your home, step into the garage. All winter long, you've probably been using it to store snow blowers and other winter maintenance items. It's time to make room for your bikes, lawnmower or other spring things. Apply a little rule when you're cleaning out your garage this spring. If you haven't used something you've been storing for more than a year, get rid of it!
Once you complete these 10 spring cleaning musts, any lingering snow is sure to be gone. So, you'll have a clean home and a little extra time to enjoy the spring beauty blossoming around us!