Spring into the Season of Bright, Bold Color! 10 Spring Home Decorating Ideas
It's here! It's here! It's here! Spring has officially sprung and the season's fresh sights and sounds cannot be far behind. So, now that spring has finally arrived, are you ready to give your home a spring makeover?
We're blossoming with ideas on how to freshen up your home this spring. Here are 10 of our favorite spring home decorating ideas: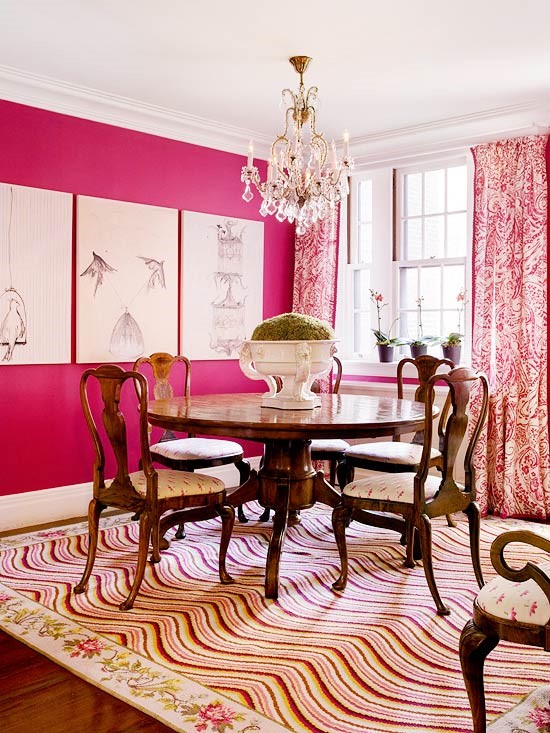 1. Dare to be Bright: Bright, bold colors are in – in a big way – this spring. Think bold blues, vibrant pinks and daring greens! Don't be afraid to let those colors show throughout your home. We may not suggest combining every bright color under the sun into one room, but theming a few of your favorite rooms with your favorite bright colors may give your home an overall fresh new feeling for spring.
2. Show Off Your Modern Side: If your taste in colors is more traditional and you are naturally drawn to black, white or neutral shades, there is still hope for you this spring! Try to freshen up your interior by adding some modern designs or patterns with your traditional colors. Vibrant stripes or zig-zag patterns, even in traditional shades, are sure to make a room pop.
3. Keep it Natural: If you're so inspired by the outdoor beauty of spring, bring it inside! Floral prints, butterfly and bird prints or other earth-inspired prints are hot for spring decorating. You don't have to redo an entire room in floral beauty; but, you could infuse some photos or frames with spring flowers or make a lamp shade pop with a beautiful, butterfly print.
4. Stop and Smell the Roses: Of course, flowers are one the most-recognized signs of springtime. So, adding them to your home is an easy and instant way to bring a little spring inside. Not only will they freshen up your home, the oxygen that live plants give off may even make you breathe a little easier this spring.
5. Give Mother Nature a Hand: Mother Nature will do so much to brighten up the outdoors, but you can help her out by adding some spring touches outside of your home, too. Remember the bright colors, modern patterns and natural touches that we mentioned above? Why not try applying them to your front door or mailbox for the spring season? You can even brighten up your stoop with a fresh welcome mat or spring wreath.
6. Hang Wallpaper: No, you didn't read that wrong. Patterned wallpaper is a hot spring trend and we actually love the way it looks! Now, you may want to select peel-and-stick options or removable wallpaper, so that it is easy to swap out at a later date; but, you just may find yourself falling in love with the way it looks. If you're not daring enough to try a whole room or even whole wall, slap some wallpaper on a lampshade for an enlightening addition!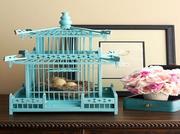 7. Spread your Wings: Now that spring is here, prepare to hear the sweet songs of birds chirping and don't be afraid to bring the sights associated with those feathered friends into your home. A vintage birdhouse is an excellent way to show off spring style in your nest and you can dress it up further by adding faux robin eggs or fresh spring flowers.
8. Keep it Stylishly Cozy: You trade out your "sweaters and boots" wardrobe in the spring, so why not switch out your throw pillows, too? You can add a touch of spring to your home by finding new pillows altogether or just by adding some springy pillow covers. Again, if you love neutrals, but want to branch out this spring, bright accent pillows are a great way to make your home pop!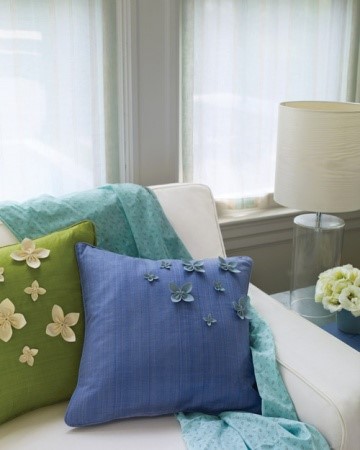 9. Combine Spring Trends… Subtly: In separate spring decorating tips, we've noted bright colors, modern patterns and nature's beauty. If your conservative self is thinking about turning over a new leaf this spring, why not try combining more than one spring trend? The look can be easily done and expertly achieved by starting small. Bright new window treatments, a modern accent rug and a vintage birdhouse can instantly turn an otherwise neutral room into a trendy spring paradise!
10. Get Creative! Catching a theme with hot spring decorating trends? It's patterns. It's textures. It's color. It's nature. When it comes to home décor, spring decorating can be many things. Get creative in your home! After all, spring is the season of renewal!
For more ways to bring spring into your home this year:
http://www.housebeautiful.com/decorating/colors/spring-decorating-ideas#slide-1
http://www.hgtv.com/walls-doors-and-floors/fabulous-front-doors/pictures/index.html?ic1=obinsite
http://www.bhg.com/decorating/seasonal/spring/spring-decorating-ideas/#page=1