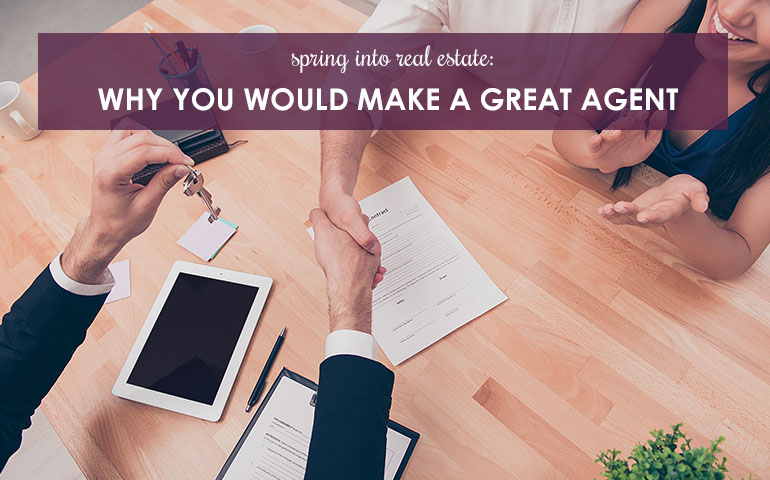 Spring into Real Estate: Why You Would Make a Great Agent
Does the change in weather have you wanting more change in your life? Maybe it is time to explore a fresh new career path this spring! Since prime real estate season is heating up right along with the weather, now may be the perfect time to spring into a career in real estate!
While you're contemplating a career change this spring, here are 10 characteristics that could mean you would make a great real estate agent:

1. You embrace change. When you work in real estate, you are constantly doing something different. One day, you may be answering emails from home. The next, your schedule may be bombarded with showings. Still, another day, you may find yourself creating listings, answering calls, arranging or attending open houses. Great real estate agents are able to go with that flow and not miss a beat!

2. You like getting to know people – lots of people! A great real estate agent does not only work with clients. They typically end up working with friends of their clients, family members of their clients, coworkers, and so on and so forth! They also have a network of lenders, service professionals and other agents that they routinely communicate with. Do you consider yourself a "people-person?" Real estate may be perfect for you!

3. You are a master communicator. The home buying and selling processes can be long, tiring and confusing. But, you know what makes all of that a little easier to take? A real estate agent that maintains constant communication, informing buyers and sellers of any new developments – or simply checking in to let their clients know they are still working to meet their needs!

4. You're able to use all tools at your disposal. It is one thing to know when to get in touch with your clients, but it is an entirely different thing to know how. Today's buyers and sellers may have drastically different needs when it comes to communication and technology. Some may prefer to communicate via a phone call; some may prefer email; even others may want you to send a quick text update. A great real estate agent will know which tools work best for each client.

5. You're a good listener. What better way to know what clients want and need than by listening? When it comes to buying and selling a home, real estate agents may have industry savvy on their side, but only their clients know what they are looking for. So, an excellent agent knows when to offer their wealth of real estate knowledge; but, they also have mastered the skill of listening to exactly what their clients have to say.

6. You're comfortable with what others have to say about you. In the real estate industry, referrals are golden. New clients want to know that you will be able to take care of their buying and selling needs. Allowing them to reach out to your previous clients is a great way to provide them with that comfort. So, think about your current professional history. Would you be happy to let previous coworkers and clients give a testimonial about you? If so, you may be a perfect fit for a career in real estate!

7. You're motivated by… you! Like the idea of making your own hours and answering to only you? Real estate agents are able to set their own schedules when it comes to showings, open houses, client meetings and office time. But, don't be fooled. Successful agents put in a lot of time – they just do it on their own terms!

8. You're interested in unlimited earning potential. Speaking of putting in all that effort… in real estate, it really does pay off! The sky truly is the limit when it comes to a salary in real estate. In fact, with hard work in the real estate industry, you could see a pay increase every year!

9. You like architecture, design and décor. From crafting an intriguing home description for a listing to explaining an available home to prospective buyers to helping clients perfectly stage a home for sale, having an eye for home features is a major plus when it comes to being a great real estate agent. If you always have found something captivating about colonial homes or you seem to have a real knack for finding knock-out accent pieces, you may be a natural when it comes to real estate!

10. You love learning. In order to become a real estate agent, you must take two courses and pass a licensing exam. But, the knowledge does not stop there! Because real estate markets, as well as buyer and seller needs, are constantly changing, great real estate agents make continued professional development a priority.

Maybe you recognize one of these qualities in yourself. Maybe you've got more than a few. If you think you've got what it takes to become a great real estate agent this spring, we've got the team to help you achieve your goals! If you are interested in becoming a part of our team, check out our careers page at Berkshire Hathaway HomeServices Stouffer Realty Services!