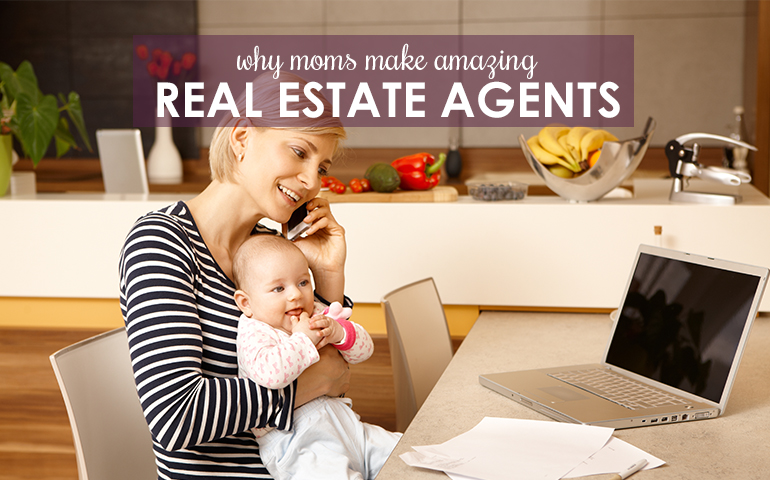 SOLD! Why So Many Moms Make Great Real Estate Agents!
OK, moms… back-to-school season is here. In fact, your kids already may have started with their first day of classes. If so, you've probably already shared that signature back-to-school photo with all of your followers and friends… you know, that one of your little ones waiting for the bus, holding that "I want to be a _____ when I grow up" sign.
So… (insert incredibly long, eerie silence here) now, what?
Sure, give yourself a day or two to enjoy all of the sudden free time you've got back; clean your house the way you want to; take your time and do your workout the way you want to; but, again… then what?
Though many moms may yearn for a quiet moment alone when they're home with their kids all day, the fact is that once the kids go back to school, most moms just don't know what to do with all of those quiet moments and free time.
But, reentering the work force is not always an easy option. There are morning drop-offs, afternoon pick-ups, after-school practices and other activities that moms want to be there for… er, they need to be there for.
This leaves many moms to look for freelance opportunities, part-time work or multi-level marketing positions that generate income and fill up some free time. What many moms may not realize is that there is a lucrative, career opportunity that allows them to stay at home when school's cancelled or the kids are sick; this career option even allows mom to be there for morning drop-offs, afternoon pick-ups and to cheer on her little ones during their after-school activities.
We're talking about a career in real estate and, unlike many career changes out there, it is not a field that is hard to break into with no prior experience. To become a licensed real estate agent, there are two 30-hour courses that are required. Following their completion, new agents pay to take a state licensure exam. In passing that licensing exam, real estate agents are eligible to take advantage of the following family-friendly career perks:
1. Scheduling Flexibility – What mom (or any other business professional) wouldn't love this? As a real estate agent, you decide how much you would like to work and when! You can contribute to your family's income on a part-time or full-time basis and you absolutely can make your own hours. You can answer emails and calls while the kids are at school and meet with clients on evenings and weekends when you're not attending those extra-curricular activities that are just too important for moms to miss!
2. Office Options – Unlike many other professional career choices, a career in the real estate industry still allows moms (or anyone else) to work from the comfort of their own home, either in their most professional attire or their PJs! Yes, many real estate agents have the option of coming into an office, but when mom's little ones need to stay home or she simply needs to get some things done around the house, working from home is always an acceptable option!
3. Earning Potential – We all know that it is already hard to put a price on everything that moms do around the house. With a career in real estate, there is no capping the additional income that mom can bring into the family, either! Real estate agents earn a commission-based salary, so income is based solely on the amount of work that a person puts in. If moms put in half of the energy that they put toward keeping the family running smoothly, success in real estate is inevitable!
In addition to the family-friendly perks that all moms are able to take advantage of by pursuing a career in the real estate industry, Berkshire Hathaway HomeServices The Preferred Realty real estate agents also enjoy several other freebies that include e-leads and referrals, a company content management system, marketing materials, web listings, professional listing photos and continuing real estate and management education courses.
So, moms, when you're coping with the eerie silence that remains once your kids go back to school this year, consider what a career in real estate could do for you and your family. Learn more about how to start an exciting career as a Berkshire Hathaway HomeServices The Preferred Realty real estate agent here.