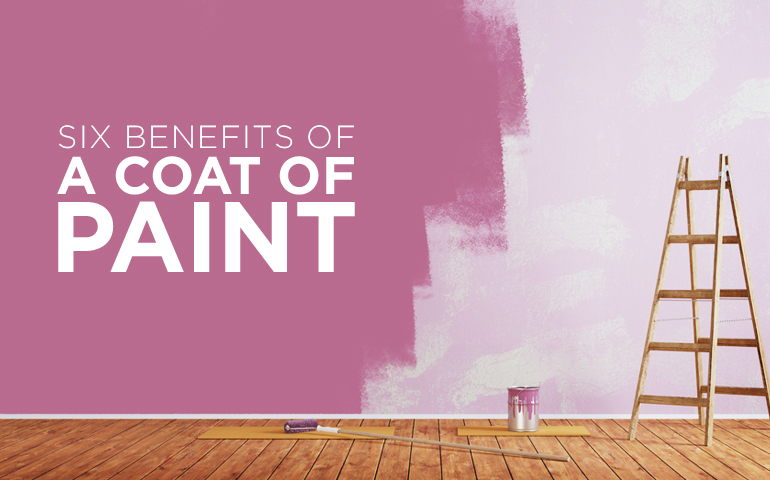 Six Benefits from a Fresh Coat of Paint
Sellers, are you stuck on how to update your home before listing it? How about adding a touch of paint? We have put together a list of benefits that a fresh coat of paint can add to your home when selling.
Change of Trends
Did you ever paint a trend that now looks out of date? It's a good idea to take a look at your paint colors and make sure they match design trends today. Painting a loud, dark purple room a light gray or taking down the floral wallpaper could be more attractive to buyers, especially those who are searching for a move-in ready home!
Can Make Small Rooms Feel Larger
Strategic painting is one of the easiest ways to make your home look larger with minimal effort. Try painting your ceiling a lighter color than the rest of the room for a high-ceiling appearance, or make a space look larger by painting the walls soft tones of off-white, blues, or greens. If you paint the trim and molding lighter than the walls, it will make the walls appear farther back, giving the space an overall larger appearance.
Lightens and Brightens
A dark room can initially make a room feel smaller, gloomy, and uninviting. If you have a dark room in your home, try painting it a lighter shade in the same family or a neutral color. Incorporating neutral or light colors can make a huge difference in the way a potential buyer perceives the space.
First Impression
The first impression of your home could be the difference between a walkthrough and an offer. Fixing peeling paint on walls or scuff marks with a fresh coat of paint will make your room look fresh, crisp, and attractive to your potential buyers. This will also give your home a better online presence as 90% of buyers look at homes online as part of their search. When choosing a color for the interior, neutrals and earth tones are often the go-to paint colors. Choosing these neutral colors will create a great staging presence and really allow buyers to envision themselves in the space.
Boosts Curb Appeal
Painting the outside of your home can instantly boost the curb appeal of your home and make a lasting impression on buyers. If your home is faded or has chipping, curling, or bubbling paint, it would be a good idea to repaint your exterior. You could also opt to add a pop of color to the outside of your home by painting your shutters or a door for a touch of drama.
Affordable
Painting is an easy way to give your space a fresh, updated look before it goes on the market that won't break the bank. You can paint one room to brighten it up, go all out by painting every room, or paint the entire exterior of your home. Although it may take a little time, painting is one of the most cost-effective improvements you can make to your home that will make it more appealing to buyers.
As you're making your to-do list before listing your home, think about adding a fresh coat of paint as an investment to your home. From making a good first impression on buyers to making your rooms look brighter and bigger, a new coat of paint will do the job!
Have you heard about our New Neighbor Program? Berkshire Hathaway HomeServices The Preferred Realty can offer its clients exclusive discounts from area vendors, including PPG Paints, through our New Neighbor Program. Want to know more? Ask your real estate agent for more information!
Berkshire Hathaway HomeServices does not endorse any of the products or vendors referenced on this material. Any mention of vendors, products, or services is for informational purposes only.