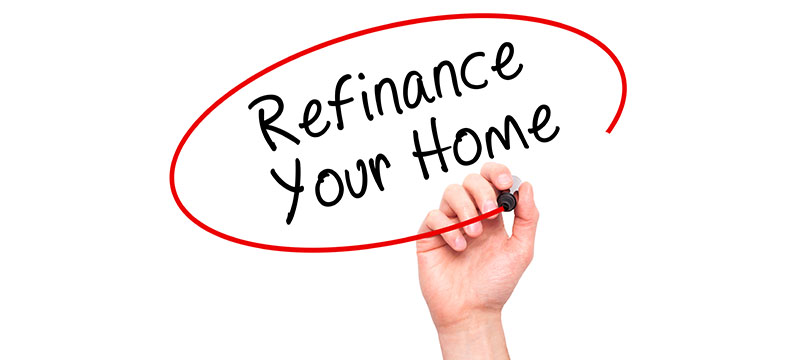 Should I Refi?! Why it May or May Not Be Time to Refinance Your Mortgage
If you own a home, maybe you haven't been paying too much attention to the low lending rates that are currently – and have consistently – been offered by banks and mortgage lenders across the nation. But, maybe you should be!
Because, along with those consistently-low lending rates, come the consistent numbers of homeowners who are taking advantage of lowering the annual percentage rate on their mortgages, thanks to various refinancing programs.
Is it time for you to refinance your home mortgage? Here are a few factors to consider:
1. Your Home Equity: Just as lending rates are low, home values across the nation are on the rise. So, if your home is worth significantly more than you owe on it, you may have enough equity to make refinancing worth your while.
2. Your Credit: The better your credit, the better lending rate you'll receive. It's as simple as that. So, if your credit was not so great at the time you secured your mortgage, but you've worked hard to improve it, you may reap the benefits by locking in a lower mortgage rate on a refi – saving you thousands of dollars over the length of your home loan.
3. Your Available Cash: In most cases, homeowners that apply for refinancing are required to come up with closing costs and a few other fees at the time their transaction is completed, which means they need to have some hand money available. This also means that homeowners should consider the amount of time it may take to recoup those costs. Yes, you'll likely realize monthly savings in refinancing, but if you plan to sell your home before you reach that break-even point, you may want to reconsider.
4. Your Debt: Homeowners with a good amount of equity in their homes may choose to borrow additional funds to pay off credit cards, student loans or other debts. While this may seem like a quick and easy way to get rid of unsecured debts, it is also a quick and easy way to hang onto those debts in the long run. After all, missing credit card payments may result in some late fees; but, missing mortgage payments could result in foreclosure.
5. Your Current Mortgage: To homeowners with adjustable-rate mortgages, a refinance can be a great way to lock in a low annual percentage rate when they simply don't know how high their own rate may rise. For homeowners with fixed-rate mortgages that are over 6%, current lower interest rates may significantly decrease their overall mortgage costs.
6. Plans for Your Home: Your future plans for your home and the length of time that you plan to live in your home should also be considered. One of the many available mortgage programs that can be tailored to your specifics needs. Matching the correct program will save homeowners money over the term of the loan. A "right fit" program will also build equity at a faster rate.
If you meet one or most of those factors, you may be a great candidate for a refinance. Here are a few mortgage refinancing options:
1. A Conventional Home Loan: This refinancing option looks like a conventional mortgage and is for homeowners with a decent amount of equity and good credit, who are simply looking to lower their annual percentage rate.
2. A FHA Loan: For homeowners that have little to no equity in their homes, a lower credit score or higher amounts of debt, the Federal Housing Authority may offer a refinancing option that will allow them to lower their annual percentage rate. However, to secure their loan, they may still have to pay private mortgage insurance (PMI) up front or on a monthly basis.
3. A HARP Loan: The Home Affordable Refinance Program (HARP) is for homeowners with little equity and a mortgage that is owned by Fannie Mae or Freddie Mac. HARP can give homeowners a lower interest rate, shorter loan term or fixed rate without some of the equity and credit standards that other refinancing programs require.
These are just a few of the available home refinancing options. Within those options, some homeowners may be able to secure a no-cost refinance, where they are able to roll closing costs into their total loan amount.
Other homeowners may select a cash-out refinance that allows them to borrow more than they owe – based on their home equity. With a cash-out option, homeowners take the difference in cash to pay off other debts.
As with any mortgage, it is best to shop around for what refinancing option may be best for you. Remember, each bank has different lending guidelines. If you're looking to refinance your home, confirm your eligibility with each individual bank and select the lender that is best for you.
This post is sponsored by PA Preferred Mortgage:
Pennsylvania Preferred Mortgage is a full service mortgage banker and is a member of the Prosperity Home Mortgage, LLC family. Specializing in residential and refinance loans, Pennsylvania Preferred Mortgage offers a wide range of mortgage products, including fixed and adjustable rate mortgages, jumbo loans, Federal Housing Administration (FHA) and Veterans Affairs (VA) loans, and renovation financing. Learn more at www.papreferredmortgage.com.