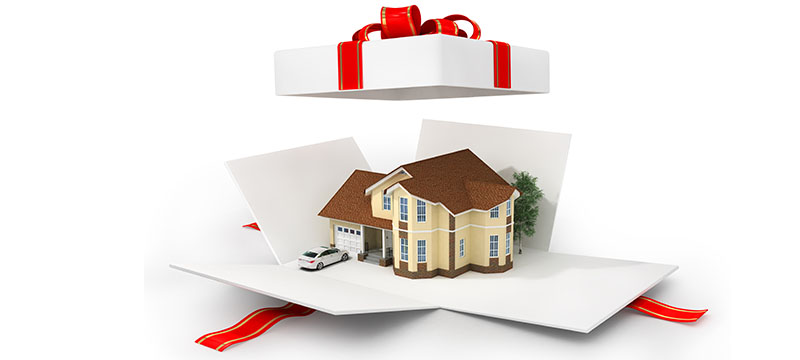 Shopping for a New Home this Holiday? Add These 10 Features to Your List!
Maybe you like to do your holiday shopping on Black Friday or Cyber Monday; maybe you've had your holiday shopping done for months; or, maybe you prefer to wait until the last minute. No matter when you complete your holiday wish list, we've likely all got one thing in common… we spend a considerable amount of time thinking about what holiday gifts we'd like to buy for our friends and family members.

Well, if you're in the market for a home this holiday season, we hope the amount of time you spend on your gift-giving is nothing compared to the amount of time you'll spend considering the features of your new home. And, we're not just talking about things like hardwood floors, granite countertops and a wood-burning fireplace.

If your holiday plans include shopping for a new home, here's a list of 10 features to consider before buying:

1. Safety: Safety is probably at the top of your family's wish list and it probably has been for your entire home search. So, you've probably been paying attention to news reports that concern your potential new neighborhood. However, once you find a home that makes you happy, it is a good idea to check local crime statistics, so that you will know exactly how safe your chosen area may be.
2. Schools: If you have children already, this feature undoubtedly already crossed your mind. But, if you're planning to start a family anytime in the future, you should take a look at the area school district to make sure you're comfortable sending your children there.
3. Storage Space: Sometimes it can be easy to fall in love with a home at first glance. Whether it's beautifully-staged or just happens to include the cathedral ceilings you've always dreamt of, you easily can be lured in to a home's appeal. But, when you find a home you love, think very seriously about both the living space and storage space. Is the home equipped for you now and will it be in the future as well?
4. Maintenance: If you've fallen in love with that big home that also has a pool and a lot of acreage, make sure you are also in love with the maintenance that will accompany those extras. Consider landscaping, lawn care, snow removal and any other tasks that may be involved with regularly maintaining the home you're interested in.
5. Extra Costs: Of course, when you're planning to buy a home, you try to determine what your monthly mortgage payment will be. But, don't forget about other monthly costs, like utilities, taxes and possible homeowner association fees. These regular fees play a big part in a home's affordability.
6. The Neighborhood: When you decide to purchase a home, you're not only buying that property, but you're buying into the area surrounding it. Consider the value of homes that are for sale or that have recently sold in the area. Try to talk with some neighbors when you think you've found the right home. Get a feel for the area before you decide to call it your own.
7. Area Amenities: Just like you want to be comfortable in your new neighborhood, you also want to be comfortable in the surrounding area. Find out where your closest grocery stores and gas stations are. Check out local restaurants, shopping and other entertainment options as well.
8. Future Development Plans: You may love a quiet neighborhood or the area amenities that you find around your potential new home today, but are you sure they will remain that way? Access community building plans to see what's in store for the neighborhood for the next five to 10 years. Be on board with future development plans before you sign a contract on a new home.
9. Traffic: Though you're probably not going to drive to your potential new home to check out the morning commute, it is wise to visit a home that you're interested in at varying times of the day. See what the traffic is like around your potential new home and how long it may take you to get where you need to go on a regular basis.
10. Accessibility: What better time to think about your future home visitors than during the holiday season? If you like to host parties at your home or frequently have friends or family who visit, you'll want to make sure they're able to easily get to and from your new home. Are there transportation options available in your selected area?
Just like you're busy crossing items off of your holiday gift list, after you've crossed these ten features off of your new home shopping list, you'll be able to comfortably decide on a new home!