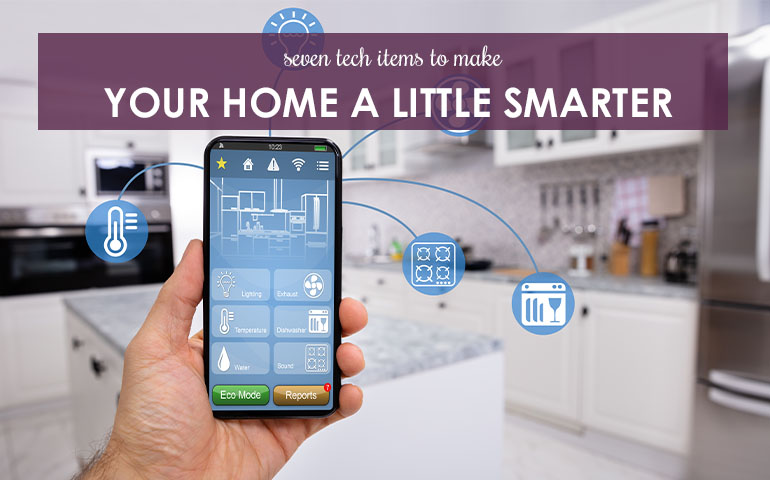 Seven Tech Items to Make Your Home a Little Smarter
Smart devices for your home are hot on the market right now and they are more than just telling Alexa to play your favorite song. You can now turn off your lights, vacuum the floors and even grill for your family BBQ! Our home devices provide a sense of convenience, particularly when they're ordering pizza or calling your family member, but in 2019, they can also tackle more serious tasks, like acting as your home security system when you're out of town.
With a simple installation process, the Ring Doorbell can improve your home's safety and make life a lot easier. The Ring Doorbell takes the place of your existing doorbell and provides motion detection anytime someone comes to your door. You also have mobile access to view your front door anytime. Simply download the app to your phone and you will be able to communicate with someone at your front door from anywhere. Another great feature through the Ring App allows you to share your feed with other users. Simply open the app, click shared users and then add a user. This will allow your neighbors to keep a watch on your home when you are away or even catch a package thief.
The Nest Thermostat is the first thermostat that is Energy Star Certified and is built around learning your schedule. The nest helps you save energy and money in your home by self-adjusting your temperature when you are not home or based on your living habits. You can also control your home through the Nest app when you are away.
The Amazon Echo is a hands-free speaker that is controllable by your voice. The Echo connects to Amazon Alexa Voice Service to ask questions, make calls, send and receive messages, provide information, check the weather and more! You can also play your favorite music from streaming services such as Spotify, Amazon Music and Pandora! The Amazon Echo also can connect to your other smart home devices to make life easier.
The SimpliSafe alarm system will change the way you protect your home. This home security device is the only one on the market with Smash Safe technology that will alert the police if damage is done to the device. Getting the police to your house that much faster.
Philips Hue is not just a smart bulb, it's a smart lighting system. The smart lights, Hue Bridge, and smart controls will forever change the way you experience light. With the Philips Hue, you have the convenience of turning off all your lights with one tap. Discover the magic of using color to transform the atmosphere of your living room into a home cinema. Or select the optimal light to help you concentrate better or relax after a long day and even when you're away, you can program lights to make it seem like you're actually home.
The Roomba by iRobot will change your life! Make cleaning easy with your new best friend. The Roomba is a robot vacuum that learns the route of your home and will take all the work out of cleaning your home. It is a must for a home with pets.
With the August Smart Lock, you will never have to worry about forgetting your keys again. You will be able to use your smartphone as a key to lock and unlock your door through a mobile app. The August Smart Lock will also allow you to create virtual keys for guests, monitor who comes and goes from your home and unlock your home when you are away.
Managing your home just got so much easier. Vacuum with ease with the Roomba or set a timer to cook with Amazon Alexa, there are so many smart home devices to choose from!