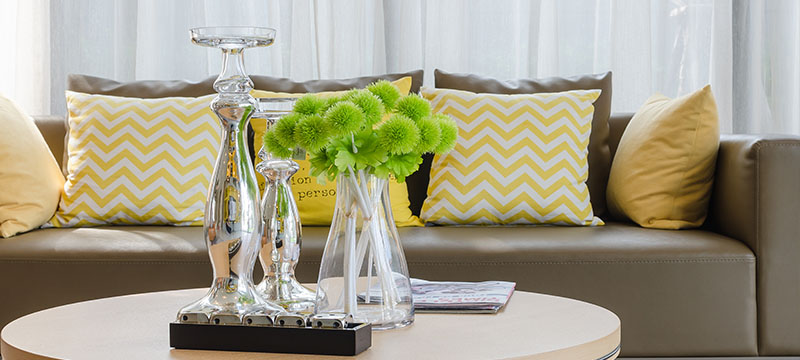 Setting the Stage for Success: 15 Frugal Ways to Stage Your Home for Sale
Selling a home right after the holiday season and right in the middle of tax season may not be on your bucket list for 2016. But, if you're in the midst of the home sale process during the winter months, you know that you've got to be at the top of your game if you're serious about selling your home.

If you're trying to sell your home this winter, you may have been advised to spend some money on professional staging to make your home stand out against other available real estate. Frankly, professional staging can be expensive, so we've compiled a list of things that you can do to stage your home in a much more frugal way this winter:

1. Clean: As if you couldn't guess that this would be the first tip on the list. Whether you plan to go professional or not, a deep clean of your home should be the first thing on your for-sale to-do list. It's instant appeal that you can uncover for free.
2. De-clutter: Once you think your home is clean and spotless, take another glance at book shelves, countertops and other areas where things like rarely-read magazines, children's toys or toothbrushes and make-up from your morning routine may gather. Find cabinet space or a storage bin to stow these things away during your home sale process.
3. Go Generic: Once you've cleaned and de-cluttered, it's time to take a third glance around your home. This time, you're looking for personal items like photos and other artwork that may be very specific to your tastes. Replace these personal affects with artwork that is appealing to a wide audience.
4. Stay Neutral: Does your son have a lime green room? Is your daughter's room Elsa-ice-blue? Maybe you've created a bright red accent wall in your kitchen. These things may look stunning to you, but it is best to give prospective buyers a blank palette when they walk through your home. Pick neutral colors to allow buyers to envision their own things in your space.
5. Raid Your Closets: To maximize the amount of storage space in your home, clean out your closets before prospective buyers start touring through. Store out-of-season clothes and items that you don't use. With a thorough clean-up, even if your closets aren't huge, they'll appear much larger and more organized.
6. Move Things Around: When you're trying to put your home's best foot forward, it is OK to get a little creative with your home layout. Maybe you've had your furniture in the same position for the entire time you've lived in your home. Step out of your comfort zone and see if you can make your home look more spacious by moving things around!
7. Add Some Mirrors: If you're looking for an easy and inexpensive way to add the illusion of space in your home, strategically place some mirrors. They'll add instant depth to any space. And, of course, they'll match any existing décor!
8. Dress Empty Spaces: If you currently use your dining room as a play room, give it a minor makeover before allowing buyers to see it. Find an inexpensive table and properly set it. That way, buyers can see the room used as it was intended. This goes for empty bedrooms or office spaces as well.
9. Get Handy in a Hurry: Instead of hiring a repairman to make small fixes around your home, do a little DIY and repair your own leaky faucets or other minor things. Don't get in over your head, but take care of the small fixes around your home by yourself.
10. Shape Up the Landscape: Though it may be the middle of winter, you need to make a great first impression on buyers. So, what is the first thing they'll notice when they come to your house? Your yard! If there is snow, it should be shoveled away from your driveway, sidewalks and front door. Give buyers easy access to get inside your home!
11. Freshen with Flowers: You certainly don't want to pick the most fragrant flowers, but fresh flowers and greens bring certain life to a home. When your home is for sale, bringing a fresh bouquet or two into the picture is a stylish and inexpensive way to liven up your décor.
12. Select a Scent: Speaking of fragrances, you certainly don't want to offend prospective buyers with an overpowering aroma, but choosing a natural, earthy air freshener may have a positive effect on buyers.
13. Let in the Light: Another cost-effective way to make your home more appealing is simply to let in more light. Opening the blinds and turning on the lights before showings will brighten up your home and may even make it look larger.
14. Play Some Tunes: You may not want to blare top 40 hits while your home is being shown, but setting the mood with some light background music may make for a more enjoyable tour. If you're able to, set the tone of your tours with some light background music.
15. Turn Up the Heat: Particularly in winter, it is a good idea to keep your thermostat at a comfortable 70 degrees, especially if your home is on the market. Though it may be cold outside, you want your home to appear as warm (yes, literally as warm) and inviting as possible! Spend the few extra dollars and make sure your home is eternally warm during its sale.

While you may not want to invest much money into hiring a professional stager, working with a real estate agent to stage your home won't cost you a dime! Contact an experienced, professional real estate agent at Berkshire Hathaway HomeServices The Preferred Realty. We'll be happy to get your home in listing condition in no time!