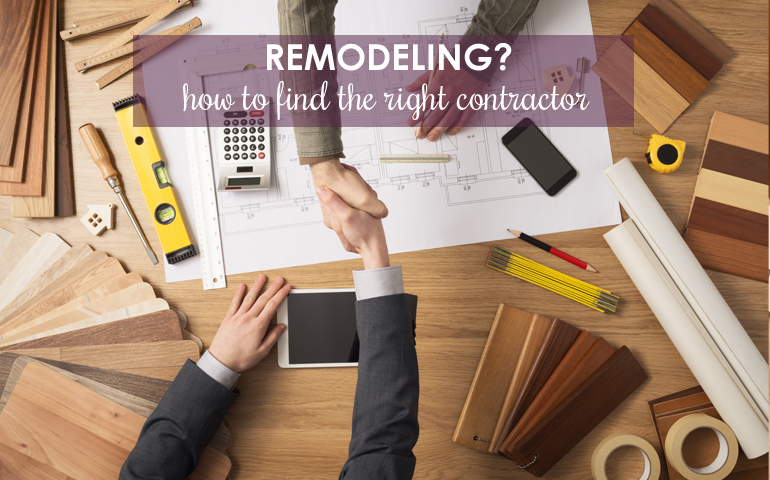 Five Tips to Find the Right Contractor for Your Remodeling Projects
The spring season brings the arrival of the one of the busiest home remodeling seasons. From patios to porches to landscaping and more, homeowners everywhere are getting bit by the home-renovating bug. But, when you're doing major projects around your home—even if you're a fan of DIY—it can only get you so far.
For some spring remodeling projects, you must bring in a contractor. And, there are a lot of contractors out there. So, how do you know you'll pick the right one?
Here are five tips to help you find the right contractor for your next spring remodeling project:
1. Listen to your family members and friends.
When you first bought your home, your family members and friends were probably eager to give you advice based on their own personal home-buying experiences. Since every home-buying experience differs, you may not have been overly eager to receive all of that unsolicited advice. But, when it comes to making renovations around your home, if your family members and friends want to give you their two cents about a contractor, your ears should perk up.
Word-of-mouth referrals can be the best resources when it comes to finding a reliable home contractor. If family members, friends, neighbors or coworkers have a similar positive opinion about a contractor in your area, it could be in your best interest to follow up with that contractor for your own renovating project.
2. Don't be afraid to ask questions.
Once you've got a short list of contractors you would like to know more about, it is time to start asking questions. And, you may have quite a few of them. You'll want to ask potential contractors specific questions about project timeline and payment policies. If they usually work with subcontractors, you'll want to find out more about them too. Basically, you want to know that your chosen contractor will be able to complete quality work within a reasonable amount of time—and for a reasonable price.
3. Talk to former clients.
If you're looking into a particular contractor because a friend or neighbor recommended them to you, you may think your search for the right contractor is over. But, don't just take one client's testimony into account. Friends and neighbors are a great start when it comes to choosing your contractor, but you should take the advice-seeking one step further. Ask your contractor for a list of previous clients you can reach out to for some real insight on their overall performance.
4. Get a few estimates.
You've listened to friendly advice, asked the right questions and even talked to some of a contractor's former clients. What's next? Finding out how much your planned project may cost, of course. Ask your top three contractors for a detailed estimate of the work they plan to complete. If all estimates vary greatly, ask a couple more contractors to weigh in. You want to get a fair price for your renovations, no matter who you decide to move forward with.
5. Don't base your decision on price alone.
Although you want to make sure you receive a reasonable price on your next home renovation project, you cannot base your decision on moving forward with a contractor on price alone. Yes, your competing prices should be similar, but if you like everything else a certain contractor brings to the table—and his or her price just happens to be a bit higher than the others—don't let price alone rule them out. Instead, mention other estimates to your prospective contractor to see if you can drive your overall costs down.
Much like the current busy real estate market, spring and summer are prime busy seasons for many contractors. If you are planning a home remodeling project this spring, use these tips! Make a decision on the right contractor soon before their spring or summer schedules fill up. Happy home remodeling!