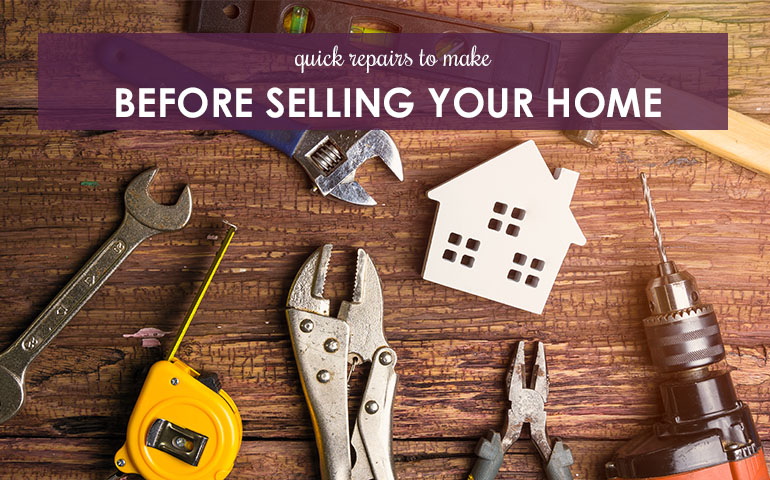 Quick Repairs to Make Before Selling Your Home
When you are preparing to sell your home, you want to make sure it's in tip-top shape before it hits the market! Now that the holidays have settled down, you might have a little extra time to make those repairs you have been putting off. Whether you need to fix up some chipped paint or repair that leaky faucet, making quick adjustments will really increase the value of your home and make a good impression on a potential buyer!
Make Minor Repairs
Make a list of minor repairs that might need done that you haven't gotten around to. These are all things that can be an easy weekend project to fill up a little bit of your time. If you have a problem with a leaky kitchen sink or loose tiles, now is a great time to make those repairs. You can make your whole kitchen look new just by replacing the cabinet knobs or making other minor repairs. Walk through your home and make sure everything works as it should – from the small things like doorknobs and locks to bigger stuff like your garage door. It is easy to forget about these things when you live in the home, but potential buyers are sure to spot them.
Everything doesn't have to be new for a home to be desirable to buyers, but all the functional aspects of the home must be in good working order to fetch the best price. A few broken components are all it takes to start driving the price down or turn off a potential buyer, so get them fixed. It is also a lot better to make these small changes now instead of being forced to make them after an inspection when you are pressed for time.
Replace Window Screens
Replacing your window screens is a cheap and easy way to stand out to buyers. If your window screens are old or torn in places, it's a good idea to go ahead and swap them out with new ones. Typically window screens are only $10-$15 at your local hardware store and can easily be done in one weekend.
Add a Fresh Coat of Paint
Painting is an easy way to give your space a fresh, updated look before it goes on the market that won't break the bank. You can paint one room to freshen it up, go all out by painting every room or paint the entire exterior of your home. Although it may take some time, painting is one of the most cost-effective improvements you can make to your home that will make it more appealing to buyers. Painting bright rooms in your home to neutral colors could also help sell your home and help potential buyers picture themselves in the space.
Fix Up The Bathrooms
Sprucing up your bathrooms can add a ton of value to a new home on the market. This can be as simple as having your bathroom tiles steam-cleaned or regrouting in between tiles. Caulking, new plumbing, and adding in a new light fixture can create a lot of value and help your home sell above the asking price. You could also think about staging your bathroom by putting up a new shower curtain, a fresh mirror, or some candles and a plant!
There is no better time than now to spruce up your home and get it listing ready. Whether you want to update the lighting throughout your or make a quick fix to chipped paint, these tips and tricks are sure to have your home looking its best!
When you are ready to list, we are here to help in the next steps of the process. Feel free to reach out to an agent at Berkshire Hathaway HomeServices The Preferred Realty for more information on how to list.