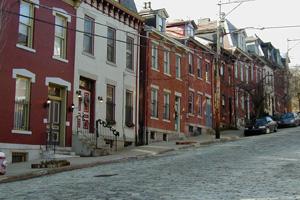 Pittsburgh's Northside - Urban Appeal and Everything Pittsburgh!
Pittsburgh sports fans… how would you feel about living merely footsteps from Heinz Field and PNC Park? Yes, the Pittsburgh Steelers and Pittsburgh Pirates could be just outside of your doorstep… in Pittsburgh's Northside.
Not into sports, but have an affinity for the arts? How would you like to live in close proximity to the Fein Art Gallery, The Andy Warhol Museum and The Mattress Factory? Yep, they're all in Pittsburgh's Northside.
History buff? Pittsburgh's Northside is also home to the Carnegie Science Center and the Children's Museum of Pittsburgh. Love nature? Check out The National Aviary or enjoy Riverview Park. With dense woodlands, it's perfect for hiking, jogging and even horseback riding.
Feeling lucky? Along the North Shore sits the Rivers Casino. Don't forget the restaurants, either. The Northside is home to Pittsburgh favorites like The Penn Brewery, McFadden's and even Gus and Yia Yia's. (Seriously, their hand-shaved ice is reason enough to relocate to Pittsburgh's Northside!)
Of course, families who call the Northside home love the convenience of countless child-friendly activities. But, they also love the educational options, like the Northside Catholic School and Propel Northside.
Business professionals are also flocking to the Northside, thanks in part to the Northside Leadership Conference and the Riverside Center for Innovation, two community organizations that are helping the business district flourish. In fact, last year, the Port Authority opened the North Shore Connector to aid commuters traveling to and from downtown Pittsburgh and the North Shore.
In addition to beautiful revitalized businesses and homes, Pittsburgh's Northside offers the historic beauty of the Mexican War Streets. Contrary to the fierce name, the Victorian-era district offers peaceful paradise among incredible urban flair.
So, let's recap: sports, arts, history, nature, a casino, endless dining options, great schools and business opportunities? Yes, you can find all of that and one of the city's top hospitals in Pittsburgh's Northside. It's easy to see why so many people are attracted to the area.
Find out what the urban oasis has for you. Search available homes in Pittsburgh's Northside.