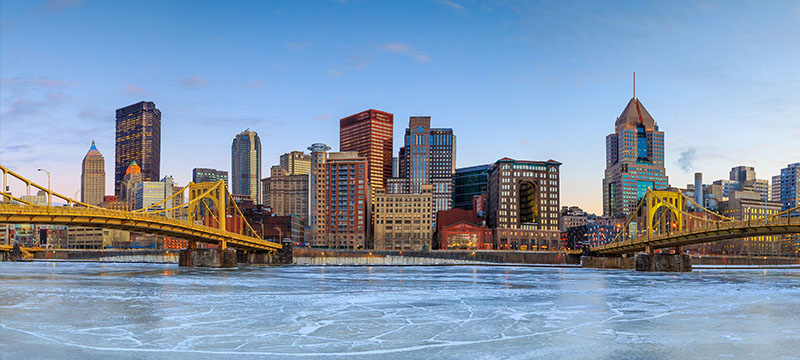 Pittsburgh Proud! Why We Love Living in the Northeast's "Best Big City!"
Welp… it's happened again. Pittsburgh has topped another national "best of" list. This time, our city ranks as MONEY's "Best Big City" in the U.S. Northeast. Their article points to big companies like Uber, Google and Apple setting up shop in the Steel City; but, we know there are countless other things that make Pittsburgh one of the best places to live.
Here are 10 reasons why we love living in Pittsburgh so much:
The Sports – Oh, come on. Football season starts in just over a week. How can we not mention our hometown sports heroes? Whether it's the Steelers, Pirates, Penguins or all three that have you cheering, the spirit that surrounds our professional sports teams is infectious!

The Schools – Thanks to an abundance of award-winning colleges and universities, like Carnegie Mellon University, the University of Pittsburgh and Duquesne University, to name only a few, those big-name companies we mentioned above easily can find a talented pool of professional candidates when it comes time for hiring.

The Food – Pierogies and Primanti's are just two Pittsburgh food staples that have been deemed as local favorites. These days, trendy eateries likes Eleven, Meat & Potatoes and Cure are taking over the city with some seriously good tastes!

The Culture – The food isn't the only thing that's gone "fine" in Pittsburgh. Our city's Cultural District features block after block of theater, art gallery or other performance hall. Pittsburgh's Cultural District is home to the renowned Benedum Center and Byham Theater, along with the Pittsburgh Ballet Theatre, the Pittsburgh Civic Light Opera and the Pittsburgh Symphony Orchestra.

The History – If sports and the arts aren't necessarily for you, Pittsburgh's rich history is sure to impress. You can learn all about the city's history and so much more at one of the city's many museums. The Senator John Heinz History Center is one of Pennsylvania's largest history museums and at the Carnegie Museums of Pittsburgh, you can see everything from dinosaurs to robots! There's even a museum to celebrate the work of Pittsburgh native artist Andy Warhol.

The Green Space – Living in Pittsburgh isn't only about streets bustling with business and entertainment options. In fact, there are five parks or nearly 2,000 acres of green space inside the city limits. Letting children run through the Point State Park Fountain is always fun or escaping that chaos for some serenity atop Emerald View Park in Mount Washington can be complete bliss.

The Beauty – Speaking of Mount Washington, it offers one of the best and most breathtaking views of Pittsburgh to be seen. Not only can you ride a historic incline to reach the top; but, once you're there, you can gaze upon city's prominent skyline, complemented by the natural beauty of the merging of the Ohio, Allegheny and Monongahela Rivers… all in one glance.

The Attractions – Living in Pittsburgh, it is easy to experience nature by merely taking a walk outside. But, our city has one of the nation's top-rated zoos and aquariums, too. And, the attractions don't stop there. Pittsburgh is home to legendary Kennywood Park and Sandcastle Water Park, in addition to beautiful botanical gardens, a national aviary and more!

The Healthcare – It's one of those city features that you never want to think about needing, but are always glad to have available. The healthcare options in Pittsburgh are unmatched. From the University of Pittsburgh Medical Center health system to regional hospitals like West Penn and Allegheny General Hospital, options for top-rated patient care are abounding.

The People – So, the other "reasons" on this list may be landmarks, parks or restaurants, but anyone who's traveled to Pittsburgh will agree… there's just something about the people you meet and live around in this city. It's not hard to make forever friends here, and even if you've just met someone, they're likely to treat you like they've known you for years anyway.
So, thanks to MONEY for recognizing our city as one of the nation's "Best Big Cities…" but, if you ask anyone who's lived here or even visited, we knew we had that one in the bag! Find out what makes Pittsburgh such a special place to live by visiting our Pittsburgh Real Estate guide.