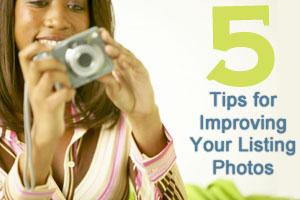 Picture This: Tips for Listing Photos to Make Your Home Move!
OK, sellers… as you've probably already assumed, most buyers begin their home searches online. So, that is probably a good place for you to start showing off your home, right? Well, May is National Photography Month; so, why not spruce up your listing with some fresh snapshots that show off your homes best sides?
If you or your real estate agent is not an architectural photographer, how can you best showcase your home? Here are some expert tips for taking perfect listing photos of your home:
1. Use a tripod
It may seem silly and unnecessary, but even a little movement on your part can distort your home's naturally-appealing features. Ensure you're taking perfectly-balanced, straight-on photos by saying "hands off" with a tripod. A tripod will also help make sure you're not accidentally showcasing your ceilings instead of your living space.

2. Light it up
When taking listing photos, light is your friend… as long as you know how to use it. What do the experts suggest? When you're taking exterior home photos, keep the sun behind you, so natural light illuminates your home. Inside, you want all the light you can get. Take bright photos by turning on all the lights and filling dark areas with artificial or work lights. To buyers… more light = more space.
One light you want to stay away from? The flash. You know that family photo where you blinked when the flash went off and ended up looking a little like a zombie? The last thing you want your home to look like is "scary." Keep the flash off for natural-looking images.
3. Clean Up
Speaking of scary and unnatural, it may be completely normal for you to leave clothes and toys strewn about your house, but that's the last thing a buyer wants to see. Yes, your home should look livable in your listing photos. Keep in mind, not everyone thinks turning your dining room into your children's play room is "normal." Think of it this way; the more you clean up now, the less you'll have to clean up for a showing or when you move.
4. Practice your Balance
So, you've cleaned up a room; now, what if it looks empty? Not a good thing. It's hard for potential buyers to judge a room's size when there is nothing in it. You've probably heard of "staging your home," as in adding some things that you may not use, but could make all the difference for potential buyers. Don't be afraid to add props, like fruit, magazines or even spare towels to make your home look more livable.
5. Go with what you know
Maybe it was your home's open layout that first sold you on it or even the stone fireplace that you added that makes you love it even more – you know what makes your house feel like "home" to you. Show your potential buyers those architectural features, too. It's likely that they may love the same things that you did!
Finally, a bonus tip from many photographers that we couldn't resist sharing… don't use a wide-angle lens indoors. The wide angle may show more of a room, but it will also make things look distorted or disproportionate.
Not sure if you're up for the challenge? Don't worry! Prudential Preferred Realty sends a professional photographer to every home listed with their agents.