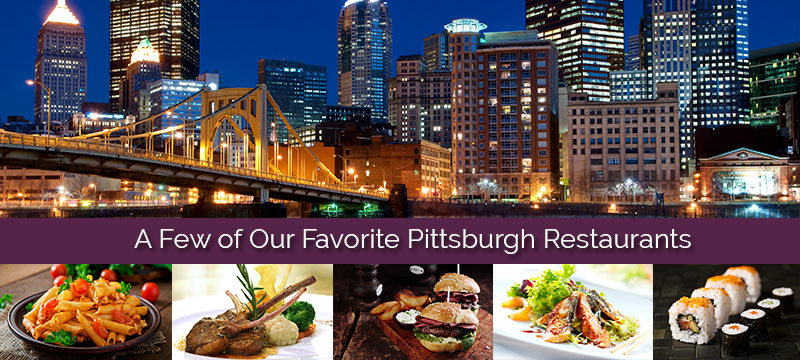 Our Favorite Restaurants in Pittsburgh
Have you heard the news? Restaurant guide, Zagat, named Pittsburgh its Top Food City of 2015. The article states, "While hefty Italian bread sandwiches from Primanti Bros. remain musts on the Pittsburgh culinary circuit, as of late it's an abundance of more refined food glories that Steel City is becoming known for." It goes on to list Pittsburgh's hippest new restaurants.
We couldn't be more excited about this acknowledgement! In fact, we asked a few members of our executive team to share their favorite Pittsburgh restaurants.
Here's what they had to say:
Ron Croushore, CEO/Owner – "My absolute favorite restaurant in Pittsburgh is Alla Famiglia in Allentown. I highly recommend their breaded Veal Chop Milanese."
Jim Saxon, President – "Hands down, Arlecchino in McMurray. They have an amazing Filet Mignon Gorgonzola and a side of pasta with hot oil that is absolutely incredible."
Deb Arrisher, VP of Marketing – "I can't pick just one! Legume, Butcher on the Rye, Bar Marco… there are just so many amazing restaurants in Pittsburgh. It's a dream come true to see Pittsburgh go from having one of the worst food scenes to now having one of the best in America."
Chris Dickson, Regional Manager – "Sienna on the Square in Market Square has the best stuffed meatballs I've ever had! Plus, the restaurant has a very hip, cool vibe."
Linda Carnevali, Regional Manager – "Two of my favorites are Franco's Trattoria in Peters Township and Mario's Family Restaurant in Moon Township. Both are locally owned and have been around forever. They have amazing service and food… true Italian flair! Franco's has the best meatballs and salads and Mario's has the best Chicken Romano and soup. Okay, now I'm really hungry for both!"
Bill Hammill Jr., Training Director – "I have two. One truly 'local' restaurant is Verona Village Inn. It is an authentic Italian restaurant with great food at great prices and the staff treats you like family. The restaurant is small and it is always busy, but that's part of the experience! It was ALWAYS the restaurant of choice for my mom and dad when they would take the family out for dinner. My other favorite is NOLA in Market Square. It has a New Orleans style menu with choices that cannot be found anywhere else in Pittsburgh. One of my favorite items on their menu is the Fried Green Tomatoes!"
Judy Gelman, Career Development Director – "I love Nicki's Thai on the North Side. Great food and the garden is peaceful and beautiful. Pad Thai is the best! I also love Park Bruges in Highland Park because food is great and it has a cozy, neighborhood feeling. Love the mussels and the chicken there… and the French fries!"
Mike Dean, IT Manager – "La Tavola Italiana is my favorite because it's a family-owned restaurant serving real authentic Italian food in family-style portions. It's B.Y.O.B. and just a great place to go with friends and spend hours eating, drinking and conversing."
Jamie Dickson, Transaction Management Services Director – "e2 in Highland Park is totally unique and they have the best Salmon Campenelle – my mouth is watering just talking about it! Oh, they also have the best meatballs!"
Kristie Forsman, Director of Digital Marketing – "I'm obsessed with the Blackenzola (Filet Mignon with Gorgonzola) at Hoffstot's Café Monaco in Oakmont. I also recently discovered The Yard in Shadyside – 26 types of gourmet grilled cheese… need I say more!"
Tracy Young, Director of Relocation Services – "Pamela's Diner is the best, especially for breakfast! You can't go wrong with anything on their menu."
Do you have a favorite restaurant in Pittsburgh? If so, comment below!