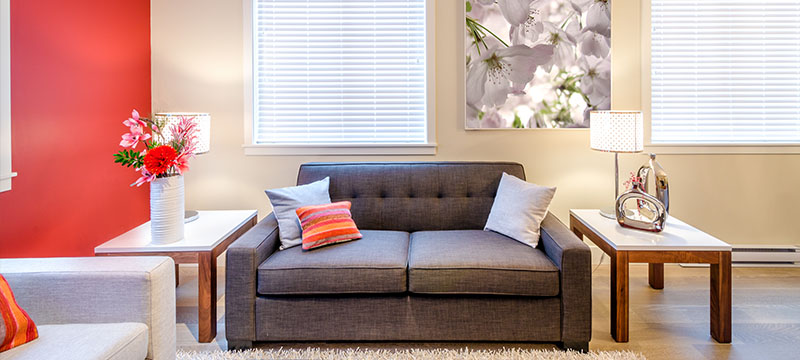 Oh No! Your Mom's on Facebook and Home Staging's Gone Digital!
When it comes to selling a home, you've probably heard of staging – you know, tastefully filling a vacant room the way it was intended to be used so that prospective buyers easily can envision themselves living in a particular home. Undoubtedly, it's effective; but, staging also can be time-consuming and downright expensive.
Enter the world of virtual staging.
Yep, virtual staging. It pretty much works the same way as traditional staging, but it's all done digitally online. And, since so many buyers begin their home searches online these days, virtual staging is emerging as an easier way to draw buyer interest into a vacant home.
After all, if you've considered selling your home, you've probably heard all the hype that surrounds great listing photos. By design, virtual staging can promise flawless listing photos.
Plus, after all, it is immensely easier to move a digitally-placed couch than it is to lift, carry and stage an oversized sectional! Similarly, virtual staging is much less expensive than traditional staging. With virtual staging, users pay a one-time fee of a couple hundred dollars to stage their home. Traditional staging fees typically run month-to-month, so if a home doesn't sell right away, those fees quickly can rack up.
So far, virtual staging sounds like a winning situation for everyone, right?
It certainly can be; but, it also is something that sellers may want to exercise some caution with before using.
As with any communication during the home sale process, transparency is important when it comes to virtual staging. If a seller chooses to include virtually-staged photos among photos that include their own personal décor, it is a good idea to label them as such. It is also sometimes suggested that sellers follow-up a virtually-staged listing photo with an actual photo of the vacant room.
Yes, every seller wants to showcase their home beautifully, but they shouldn't want to mislead buyers on the home's furnishings. This way, when a buyer chooses to take an actual home tour, they are not surprised by what they don't see.
In fact, to assist sellers with that transparency, some companies may offer an option to include a wall-mountable photo of any room that has been virtually staged. This way, buyers may walk into an empty room, but they are able to easily visualize the room with appropriate furnishings.
With proper transparency, virtual staging can be an excellent home sale tool that is relatively inexpensive. Some proponents of virtual staging even suggest that using virtually-staged photos is no different than using furnished photos of a home after a seller already has moved. This case certainly is similar; but, no matter the circumstance, when it comes to selling a home, you can never go wrong with full disclosure!
So, while virtual staging may not be your momma's trusted old way of selling a home… remember, you never thought you'd see her pop up on Facebook, either. A lot of people and processes have gone digital these days.
So, to stage… to virtually-stage… or to do none of the above? It's all up to the seller! If that is your question, we'd love to help! Contact an experienced Berkshire Hathaway HomeServices The Preferred Realty agent today, who will gladly work with you through your home sale process!