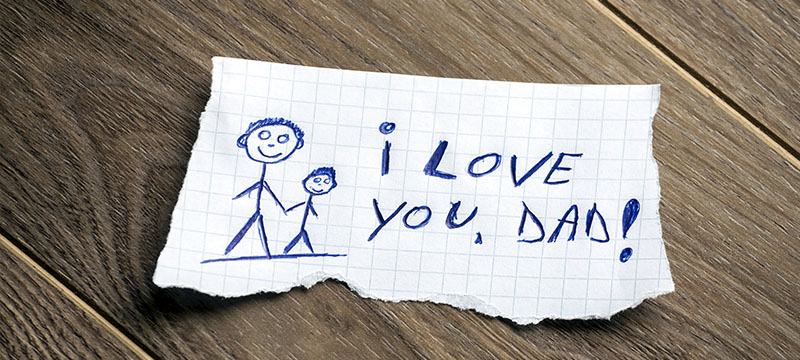 "No Ties, Please!" Father's Day Gifts Your Dad Will Be Happy to Bring Home!
Summer officially kicks off this Sunday and with it comes that one special day of the year when we celebrate all of the awesome dads out there. Yes, Father's Day is just days away; but, there is still time to show your appreciation to the deserving dads in your life.
For a little twist on traditional gifts like ties or tackle boxes, we've compiled a list of tech-savvy, somewhat tasty and even home-made Father's Day gift options that are sure to make your dad's day memorable:
Headphones: No matter what age his kids may be, we can't think of any dad who might not like to slip away to a miniature vacation of the mind by tuning everyone out with some new headphones. Whether he's mowing the lawn, working in the garage or simply "resting his eyes" on the couch, your dear old dad might love to listen to his favorite tunes with a new pair of headphones. Since there are a lot of options on the market, the real question is… does Dad need noise-cancelling headphones or not?
USB Battery Pack: When you were growing up, did it always seem like you could turn to your dad for any batteries that you needed to power your toys? Isn't it time to pay him back for keeping a constant supply of batteries around for all of your gadgets through the years? Help him stay "in charge" of his things with a portable battery pack that can power-up his phone, tablet or laptop.
If you think these techy Father's Day gift ideas may leave your not-so-iPhone-savvy dad confused and saying "iDontUnderstand," then maybe some more traditional home-related gifts are in order:
Safety Glasses: It's probably safe to assume that your dad's done his fair share of protecting you through the years; so, maybe Father's Day is the perfect time for you to start protecting him? Consider a nice new pair of sunglasses or safety goggles that your dad can wear while he's doing some weed-eating, cutting crown molding or completing any other dad-only project! You can even find polarized sunglasses that will protect your dad's eyes from the sun or his Sunday projects!
Grilling Gadgets: Is your dad the self-proclaimed grill master of the house? This Father's Day, you can help him to further perfect his barbequing craft with a grilling cookbook and set of new seasonings. There are also a great selection of tools and meat thermometers to add to his grilling collection. Potentially, this gift idea could even benefit you in the long run. You know how Dad loves to dish out his latest grilled creations!
Showerhead: Is your dad the kind of guy who enjoys a long, hot shower after a hard day at work? Enhance his after-work relaxation ritual with a new showerhead! An adjustable showerhead will allow your dad to customize his shower experience to fit his particular preference each day.
Of course, store-bought gifts are great, but here are some homemade Father's Day gift options that are sure to keep Dad happy around the house:
Dinner: Is the way to your dad's heart through his stomach? If so, then give your dad (and mom) the day off by inviting them over for dinner. But, as tempting as it may be, be careful not to have a hidden agenda that might require your dear old dad to fix a leaky faucet or build Junior's new bike!
A Duty-Free Day: You can also surprise your dad by taking on his daily responsibilities for Father's Day. Complete whatever yardwork he usually does… mow the grass, prune the shrubs or wash his car. But, we know many dads who are pretty particular about the way they complete their tasks. Make sure that your work is up to his standards!
If you're stressing out about how to let your dad know that he is number one this Father's Day, remember that the day is all about whatever he loves. Since that's undoubtedly you, whatever gift you decide on is sure to make him happy!
From the entire Berkshire Hathaway HomeServices The Preferred Realty family to all of the deserving dads out there, have a happy and restful Father's Day weekend!