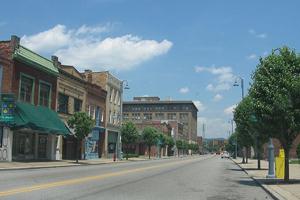 Neighborhood Guide: How Pittsburgh's West was Fun!
Live near the airport or live close to downtown? When you're looking for homes for sale around Pittsburgh, you're fortunate enough not to have to make that choice. The Pittsburgh suburbs that lie just west of the city, including Moon, Hopewell and Aliquippa, offer residents both conveniences. In recent years, they've become hotly sought-after parts of the Pittsburgh real estate market. And, it's no wonder why.
Located inside of Moon Township, the Pittsburgh International Airport is an obvious draw to Pittsburgh's west. Clearly a center for travel, the airport is also a commerce hub that helps drive the west's booming economy and real estate value.
Aside from living just a short jaunt from any imaginable vacation, Pittsburgh's western suburbs offer residents plenty of reasons to stay and enjoy the area. Golf options include the private Montour Heights Country Club and the Club at Shadow Lakes. The Moon Golf Club is open to the public and Hopewell's Windmill features 18 holes of miniature golf, along with some of Pittsburgh's best ice cream. The beauty of not living in the congested city is also evident in the numerous recreational parks scattered throughout Moon, Hopewell and Aliquippa. Pittsburgh's western suburbs even offer a drive-in movie theater and an ice arena – perfect for the young and the young at heart!
Residents in Pittsburgh's west also enjoy endless dining options including city favorites, The Meadows and Primanti Bros. Restaurant. And, the chicken wings at Hopewell's Harold's Inn have been bringing diners back for over 50 years! Just minutes from the Robinson Town Centre, residents can shop their favorite name brands or choose from a wide variety of local merchants. Schools in Pittsburgh's west boast top academic and athletic programs.
While Moon Township is in Allegheny County, Hopewell Township and Aliquippa lie just inside of Beaver County, so residents there often enjoy lower property taxes. Pittsburgh's western suburbs offer convenient access to downtown, as they lie along one of the city's major arteries, Interstate 376 – the Parkway.
So, take a trip… but, not just to the airport. Visit the Pittsburgh suburbs that lie on the city's west side. See why Pittsburgh's west will win you over. Find homes for sale in Pittsburgh's western neighborhoods.