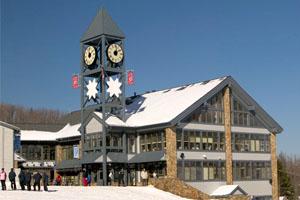 Neighborhood Guide: Hidden Valley: Pittsburgh's Scenic, Mountainous Escape
In the heart of the Laurel Highlands in Southwestern Pennsylvania lies Hidden Valley, a not-so-secret scenic paradise where families vacation, just-as-often as they make it their home. What's not to love about a serene mountainside, rich in history and rural attractions that's located just a short commute from downtown Pittsburgh?
Synonymous with family fun, Hidden Valley is home to Pennsylvania's fifth largest ski resort. The Pittsburgh attraction boasts over 100 acres of snowy magic that are easily reached via the Pennsylvania Turnpike. But, the fun doesn't end once ski season is over. Snow melts away, revealing an 18-hole championship golf course, plus hiking and biking trails. A mountain spa offers relaxation after any seasonal excursion.
Families also flock to Hidden Valley year-round to enjoy Somerset County's natural beauty at nearby state forests and amusement parks. The intricate work of famous Pittsburgh architect Frank Lloyd Wright is also found among the area's rolling hills.
Further attracting visitors to Hidden Valley are the sweet tastes of three local wineries, not to mention fine and casual local cuisine. Just a short drive away from Hidden Valley, residents and visitors are able to witness humbling historical sites, like the Flight 93 Memorial, the Quecreek Mine Rescue and Fort Ligonier.
For those families who choose to make Hidden Valley much more than a relaxing vacation, the Laurel Highlands offer top schools, excellent healthcare options and ample professional opportunities. For anyone looking for a home, a vacation home or even an income property in Pittsburgh, Hidden Valley truly is a dream come true.
Click here to find homes in Pittsburgh's Hidden Valley.