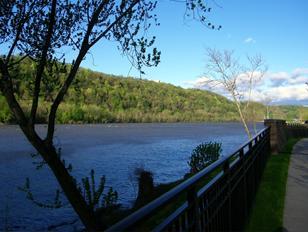 Neighborhood Guide: Fox Chapel Boasts Natural Appeal with Urban Convenience
Enjoy nature's quiet, serene beauty, but need to have access to big-city living, too? Take a walk through one of Pittsburgh's not-so-hidden treasures, Fox Chapel, and you'll instantly fall in love.
Picture this… beautiful, wooded hills nestled alongside the fresh waters of the Allegheny River. Walk inside the scenic landscape and enjoy just one of the Pittsburgh suburb's recreational parks. Easy access to fishing, boating and other outdoor family fun is right at your fingertips.
If organized sports, like golf, tennis or swimming are more your style, you can find endless recreational options at one of Fox Chapel's private clubs, which include the Fox Chapel Golf Club, Fox Chapel Yacht Club and the Pittsburgh Field Club – among other options.
After you've had your dose of fitness and fun, you can enjoy the fine dining options offered at the private clubs, or check out the many other delicious dining options within the Pittsburgh suburb. Italian, Mediterranean, Mexican and Asian are just a few of the choices you'll find.
Fox Chapel is also merely minutes from Pittsburgh's business and cultural center. That's why, when young professionals and families are looking for homes for sale in Pittsburgh, they are proud to capitalize on the suburb's elite real estate listings.
Not only is Fox Chapel ranked among Pennsylvania's top 15 school districts, the Pittsburgh suburb is also home to elite private school options. Shady Side Academy is a co-educational independent college preparatory school and the Fox Chapel Country Day School caters to children in pre-kindergarten through fifth grade.
With the exception of the churches, private clubs and schools, Fox Chapel is 100% residential, promising its residents safety and privacy. So, take a walk through a rural oasis or savor a taste of fine or casual cuisine just minutes from Pittsburgh and top-ranked schools? Yep, you can find it all in Fox Chapel.