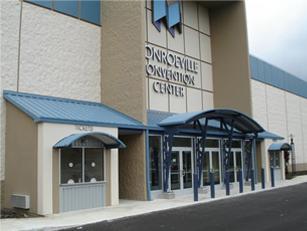 Neighborhood Guide: East of Pittsburgh, Center of So Much More!
When it comes to Pittsburgh real estate, the communities that lie just east of the city offer residents many perks, but one of the most immediately noticeable things is simple… location, location, location! Murrysville, Monroeville and Penn Hills are merely minutes from downtown Pittsburgh, thanks to Interstate 376 – aptly called the Parkway East. The suburbs also lie along Route 22 and offer residents quick, easy access to the Pennsylvania Turnpike.
But, don't be so quick to leave – the Pittsburgh East has got a lot of staying power.
A rural alternative to living downtown, the suburb of Murrysville truly has everything someone searching for a home in Pittsburgh could ask for. Just outside of Allegheny County, Murrysville is known as the "Gateway to Westmoreland County." Young families and married couples are proud to live in the revitalized community, which includes excellent hospitals and a recently built town center, the hub for commerce that houses several dining and shopping options, among other bustling businesses. Murrysville students attend Franklin Regional schools, which are state-ranked and #1 in Westmoreland County.
Trails, private golf courses and, yes, even farmland, are just the icing on the cake for Murrysville residents, who are also in the midst of building another community park that adds to over 1,000 acres they currently enjoy. Still looking for something to do in Murrysville? Take a dip in one of the community's public pools!
Once you dry off, head on over to neighboring Monroeville, where you've entered Allegheny County and the "Crossroads of Western Pennsylvania." Literally the converging point of Interstate 376, the Pennsylvania Turnpike and Route 22, don't be surprised to find that the metropolitan mecca offers small-town appeal, too.
Twenty-one municipal parks offer an array of recreational opportunities that include summertime fun in Boyce Park's wave pool and chilling winter excitement, skiing and tubing down the park's slopes. The fun continues at the Monroeville Public Library and the Maple Crest Golf Course. Families in the Pittsburgh suburb also have their choice of top public and private schools, along with excellent healthcare options.
With over 90 shopping and dining options, you're sure to find what you're looking for at Monroeville's Miracle Mile shopping center or the Monroeville Mall, which played home to Hollywood's "Dawn of the Dead" in 1978 and has since welcomed actors like Seth Rogan and Channing Tatum to the community.
Take your star-struck eyes to one of Pittsburgh's oldest and largest suburbs next. Penn Hills is rich in history and beauty. It is believed that President George Washington once stayed at one of the community's elegant, historic homes. However, Washington may be surprised to see a vibrant, young community reside in Penn Hills now.
From football to hockey and track to swimming, the Pittsburgh suburb offers endless options for its youth, who attend a top academic and athletic AAAA school district. Residents also relax at the Longue Vue Club and Golf Course, enjoying history and contemporary beauty. A visit to Penn Hills isn't complete without a stop at Mohan's Bar and Restaurant, one of the area's most well-known, family-owned spots. Although you can catch a breathtaking view of the Pittsburgh skyline from Penn Hills, you can also escape to one of the community's recreational parks, making the suburb yet another alluring real estate option in the area.
If you think you're noticing a trend among Pittsburgh's eastern suburbs, you're right. They're centrally-located, historically-beautiful and, frankly, irresistible. See why you may want to make Pittsburgh's east your center, too. Find homes for sale in Pittsburgh's east suburbs.