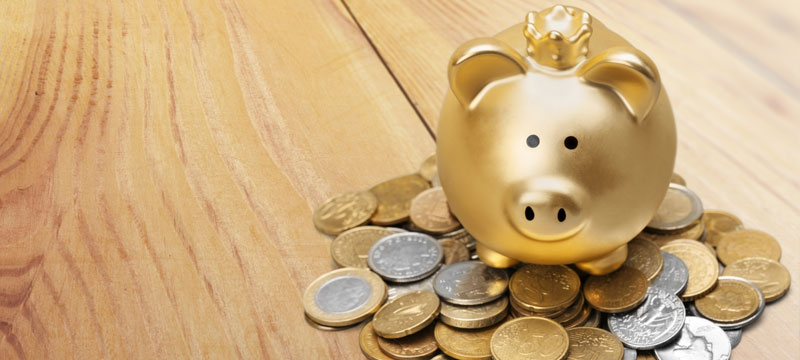 Need a Financial Fix? Try a 12-Week Money Saving Challenge!
If you have any social media presence whatsoever, you've been exposed to one of those challenge groups. You know the kind. "I need X number of people who want to look good, feel even better and, oh yes, be held accountable!"
Well, we can't lie. We've seen the posts. And, we're inspired, too. So, we're starting a little challenge of our own. But, instead of a 21-day financial fix, we're flipping the digits and going after a 12-week fiscal challenge to make you a little more financially-fit as we head into the fourth quarter of the year.
Here's a totally doable 12-week money-saving challenge to help you shape up your finances:
The Warm Up
Just like any fitness plan, you've got to warm up to a financial savings plan. Here are three ways to mentally prepare for a 12-week money-saving challenge:
Set a goal. Determine how much you would like to save over the next 12 weeks. And, be realistic. To save $1,000 in 12 weeks, you'd need to set aside just over $83 in savings each week. Setting aside $25 each week would net you $300 by the end of the challenge. Do the math and decide what amount might be reasonable for you.
Designate a savings account. Whether you're physically putting cash into an envelope at the beginning of each week or having the predetermined funds electronically taken out of your regular pay check, designate a separate area for your savings. Seeing really is believing when you're talking about saving money!
Track spending. If you're not doing this already, you may be in complete shock after just the first week. Keep a log or use an app to see exactly where you're spending your money. You'll feel a whole lot more accountable the next time you're in the check-out line.
The Work Out
Now that you've set the stage for a good financial challenge, it's time to get to it! These money-saving exercises are sure to make you more financially fit in just 12 weeks:
Hone in happy hours and eating out. When you're in the midst of a financial challenge, the last thing you want to do is deprive yourself of everything you enjoy. So, instead of totally eliminating happy hours or lunches out, limit your restaurant excursions to once a week. You can further intensify this exercise by opting for only water during meals out. It may seem like only a few dollars, but those beverages add up quickly!
Entertain at home. Limiting your happy hours and meals out doesn't mean that you have to fall off the social map. Instead of heading to restaurants, movies, sporting events or even the spa, invite your friends over to enjoy the same activities. You can host a potluck for the big game or a DIY mani/pedi party. You'll spend less money and probably more time enjoying your friends!
Make lists and stick to them. There aren't many people we know who don't enjoy perusing their way through Target. But, those glorious aisles often lead to a whole lot of impulse buying. Fight the urge to spend on unnecessary items by creating shopping lists for everything from groceries to garments! Stick to your lists and you're sure to realize savings.
Sell unused items. How's this for enhancing a money-saving challenge? One sure way to add to your savings is by making some extra money! Sort through your closets and cupboards to find clothes, decor or other items you simply don't wear or use. Someone else may be able to give them new purpose and help boost your savings efforts all at the same time.
The Reward
At the end of a successful 12-week money-saving challenge, you'll not only have pocketed the money you planned to save, but you'll also have the certain satisfaction that comes along with working toward and meeting a goal. Put this 12-week money-saving challenge to the test and see if you end up looking and feeling more financially-fit!
This post is sponsored by PA Preferred Mortgage:
Pennsylvania Preferred Mortgage is a full service mortgage banker and is a member of the Prosperity Home Mortgage, LLC family. Specializing in residential and refinance loans, Pennsylvania Preferred Mortgage offers a wide range of mortgage products, including fixed and adjustable rate mortgages, jumbo loans, Federal Housing Administration (FHA) and Veterans Affairs (VA) loans, and renovation financing. Learn more at www.papreferredmortgage.com.