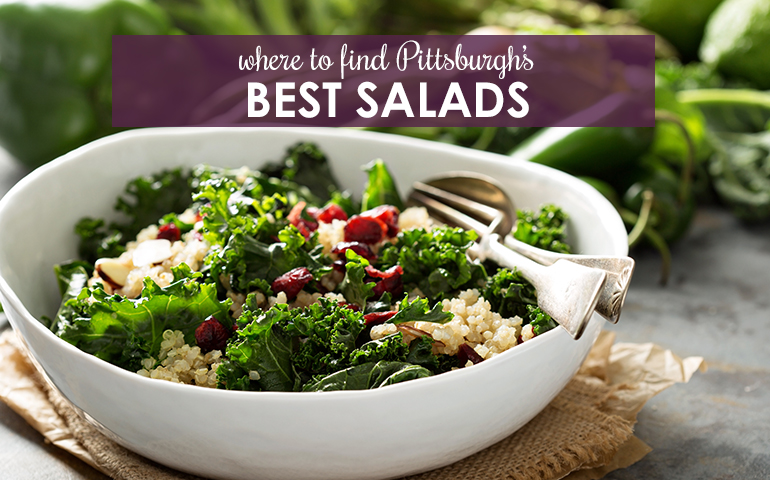 Five Pittsburgh Salad Shops to Try During National Salad Month
There is no doubt, our city is widely known for foods like pierogies and Primanti Bros. But, we don't only like to stack fries on our sandwiches! Pittsburgh is also known for topping our salads with all that crispy, greasy goodness, too.

Since May is National Salad Month, we're highlighting a few of our favorite spots to get a great salad in Pittsburgh—french fries or not. Here are five places in and around the city where you can enjoy your leafy greens this month:

1. The Chop Shop
With a location in Pittsburgh's Station Square and a food truck, too, you won't have a hard time finding a good Chop Shop salad. Fresh ingredients come standard with every salad, but the options seem nearly endless when it comes to particular tastes. From the Hearty Vegan to the Glorious Steak to build-your-own options, you're sure to satisfy your salad cravings with a Chop Shop salad.

2. Earth Inspired Salads
Not only does this salad hot spot have two locations in the heart of downtown Pittsburgh, but it also has some of the best-named menu items in the city! Salad options include Thai One On and Veg Out, in addition to build-you-own varieties with must-haves like kale, mesclun and, yes, edamame! Inspired to try one yet? We thought so!

3. Bluebird Kitchen
Founded on the premise that a meal should be "delicious and exciting," Bluebird Kitchen offers fresh cuisine in two downtown Pittsburgh locations, plus some incredible catering services. When it comes to salads, you can keep it traditional with roasted Amish chicken, step seaside with Italian yellowfin tuna or indulge in other fresh options. Whichever you choose, you're sure to walk away with a salad success!

4. Hello Bistro
Several locations around the city make it easy to get acquainted with Hello Bistro. And when it comes to salads, this restaurant is truly raising the bar—the salad bar, of course! The menu includes "salads by us" or "salads by you." Their versions include everything from buffalo chicken to quinoavocado—yes, that's quinoa and avocado—and a whole lot more! When you create your own salad, the options and dressings are pretty much endless, just another reason to say "hello" to this salad specialty shop.

5. Union Grill
Ok, we've raved enough about how Pittsburgh does a salad, and we've even provided some healthy alternatives, too. Union Grill, located near the University of Pittsburgh and Carnegie Mellon University in the city's Oakland suburb, will give you a real taste of those fried favorites on your salad. In fact, instead of curly or shoestring, Union Grill serves their salads with waffle fries! Salad options here are kept deliciously simple. You'll find Caesar, California or—yes, Pittsburgh. If you want a true taste of that city-inspired salad, you can find it at Union Grill.

When it comes to the Pittsburgh salad scene, we'll "leaf" you with one final thought. Whether you like your salads completely green or with a little greasy goodness, Pittsburgh has several locations that are sure to satisfy. Which should you try first? Don't "lettuce" decide! Try them all during National Salad Month!