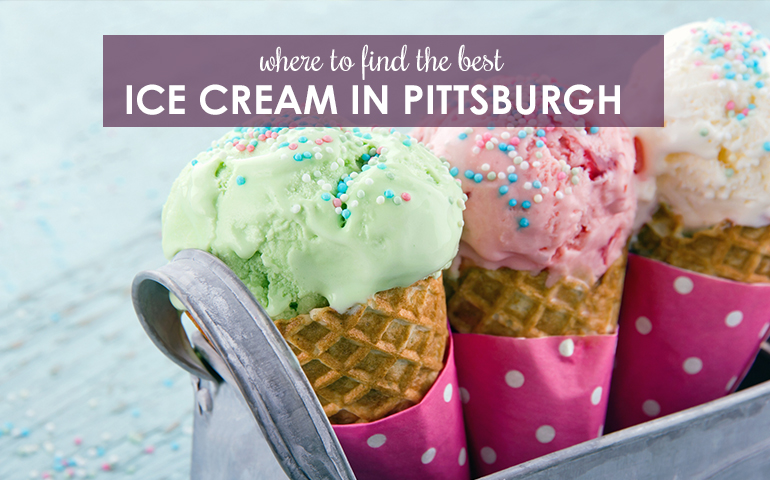 Spend National Ice Cream Month Sampling Pittsburgh's Best Ice Cream
As if we even needed a reason to enjoy more ice cream this summer, July is National Ice Cream Month! How can you celebrate this sweet occasion? By visiting some of Pittsburgh's best ice cream shops, of course.

You don't have to look too far to find good ice cream in Pittsburgh. Here are five of our favorite ice cream shops in and around the city:

1. Glen's Frozen Custard
In the Pittsburgh suburbs of Lower Burrell and Springdale, ice cream enthusiasts flock to Glen's Frozen Custard. In fact, Glen's has been a Pittsburgh favorite since it opened its first location in 1948! Glen's offers creamy frozen custard treats and great grilled food too. If you visit Glen's Springdale location, you can even play a round of miniature golf. You're sure to find great flavors and family fun at Glen's!

2. Millie's Homemade Ice Cream
With two convenient locations in Market Square and Shadyside, Millie's Homemade Ice Cream showcases seasonal flavors like Kaya Mango Tango and Rhubarb Sorbet. Oh, they have the classics like chocolate and vanilla if you want to keep it traditional too. Millie's scoop shops also feature ice cream macarons and warm brioche ice cream sandwiches. We have a feeling you'll have a hard time picking a favorite frozen treat from Millie's!

3. Klavon's Ice Cream Parlor
The city's Strip District is home to Klavon's, a Pittsburgh ice cream favorite since first opening its doors in 1923. Klavon's features recipes from the famous Penn State University Creamery tradition. The menu includes sundaes, floats, sodas and even paninis. A few you flavors you may want to try? How about the Tin Ceiling sundae, Cherry Limeade float or Nutty Englishman soda? Why choose? Try them all!

4. Antney's Ice Cream
What's even better than a homemade ice cream shop? One that also caters to your four-legged family members! Antney's Ice Cream in Pittsburgh's Greentree suburb has a walk-up window where you can order cool treats for your pup. The menu changes daily but always features delicious options—you may not even want to share with Fido!

5. NatuRoll Creamery
Lawrenceville and Cranberry Township are home to NatuRoll Creamery locations. These hot spots for frozen treats feature hand-rolled ice cream that can be topped with everything from fresh fruit to cookies, pretzels, and candy. Watch as your cool creation is crafted right before your eyes! NatuRoll also offers vegan and dairy-free options, so everyone can enjoy the hand-rolled goodness.

From creamy classic shops to trendy new spots, Pittsburgh is the perfect place to enjoy National Ice Cream Month. Take our advice and don't just try one of these delicious options. With so many flavors to choose from, you may want just want to have ice cream for every meal for the rest of the month!