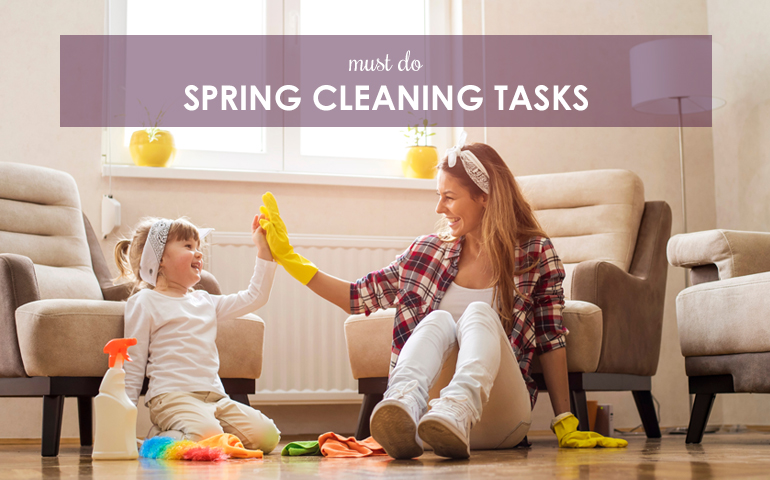 Must Do Spring Cleaning Tasks
Spring cleaning might seem like a daunting task, but with a little love, your home will be looking brand new and feeling refreshed. Spring cleaning is essential to a happy and healthy home. From the bedrooms to bathrooms, to the living room, here is our list of must do spring cleaning tasks to help get your home spick and span.

Cleaning the Kitchen
For many people the kitchen is one of the most necessary but intimidating places to give a deep clean. A good place to start is by cleaning your cabinets. Clean cabinets can really make a kitchen look good. The oil that can build up on your cabinets is a combination of food smears, kitchen grease and oil. All-purpose cleaners aren't often up to the challenge. So be sure to buy the appropriate cleaning products based on the material your cabinets are made of.

Now is a great time to clean out your oven, especially if you own a self-cleaning oven.
Clean out your fridge is no small feat, which is why most people only do it a few times a year. Spring is the perfect time check those expiration dates and purge.

Cleaning the Living Room
Not only are fabric sofas in style, but they can also be a cozy place for a nap or snuggling with your partner at the end of a long day. However, spills are going to happen from time to time and dirt and dust can collect on it just like any other place in your home.

Cleaning the Bedroom
Spring is the perfect time to clean your mattress and bed pad, which should ideally be done a couple times a year. To clean your mattress is less complicated than it might seem. You have two options. The first is using a vacuum attachment. Run the vacuum attachment across the top of your mattress, making sure to get all the crevices. Don't forget the sides of your mattress!

The second option is to steam clean. A steam cleaner may provide a more effective way of cleaning because the vapor can really get into the mattress. But be sure to spot test before doing the entire mattress.

Now might also be a good time to flip your mattress.

Cleaning the Bathroom
A relaxing bath or shower can be the perfect end to a long day. However, if the shower is dirty, you can say goodbye to that sense of relaxation. Make it a routine to clean your shower properly. Cleaning hard water stains has been a problem that has plagued society for a long time. Never use brushes when cleaning hard water stains as they can leave permanent scratches. Next, you'll need a good water spot remover. Distilled white vinegar is a favorite.
Bonus! You can also use white vinegar to clean the water stains out of the tracks in you shower.

Cleaning Every Room
Every room in the house has baseboards, yet they are often among the most overlooked areas in anyone's home. When left uncleaned they can get dirty and grimy so be sure to thoroughly clean them by dusting and wiping down.

Once your baseboards are clean you'll want your walls to match.

Curtains and drapes can help to pull the design of a room together. They can also collect dust and grime. A routine clean will help get them ready for the warmer months. While you are working on the curtains, don't forget to show your blinds some love as well.