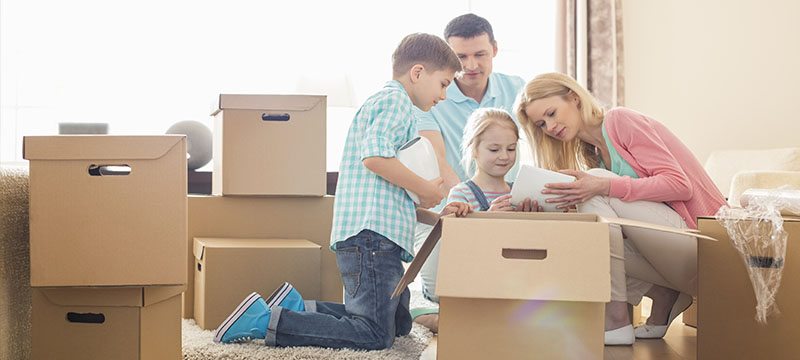 Moving During the Holidays? Check these 10 Tasks Off Your Must-do List!
If you've walked down the aisles of Walmart, Target or your local grocery store in the last week, you've likely already been bombarded with holiday hoopla. Yes, it seems that no sooner did we turn our clocks back last weekend than did retailers move forward into the holiday season.
But, what if you're moving into a new home during all of this holiday hustle and bustle? Since making and completing your gift lists and move-in lists simultaneously may be a bit difficult, we've done one of them for you!
Here are 10 must-do tasks to complete before moving into your new home this holiday season:
Change the Locks: After closing on your new home, do yourself a favor and have the locks changed. The odds are that someone – a previous owner, real estate agent, construction manager, neighbor or old friend – may have a spare key to the home lying around somewhere. While you're wishing peace on earth and goodwill to all this holiday season, give yourself peace of mind by making sure you've got the only keys to your new home.

Get Connected: Before you're ready to open that new lock on the front door, make all the proper connections – electric, heat, water, trash, cable, internet and any other utility or service you're going to want while living there. Service providers may be busier than Santa's elves during this season; so, if you don't want to go without your favorite cable channel's holiday movie countdown this year, call ahead!

Update your Address: While you're getting connected with all of your service providers, make sure to update your new home address on all necessary documentation, too. This includes everything from your driver's license, vehicle registration and voter ID card to your insurance policies, bank accounts and even magazine subscriptions. After all, we've got to make sure that those holly, jolly holiday gift-givers know exactly where to find you this year!

Run a System Check: Hopefully all of your new home's major mechanical systems were thoroughly inspected during the closing process; but, as a new homeowner, you've got to do your due diligence to make sure they're all in good working order. This goes for wood-burning fireplaces, too. You don't want to be roasting any chestnuts on an open fire before cleaning out the chimney for the season.

Clean the House: If you're lucky, previous owners may have left your new home in spotless condition; unfortunately, not every new home may be so clean. Consider that the previous owners may have stirred up some dirt while moving, had pets that you don't or even forgotten to wipe out their kitchen cabinets. Make your move-in process a wonderland by ensuring your new home is clean from the start.

Don't Wait, Paint: Not quite in love with the ho-ho-homey shade of green your new home's previous owners used in the bathroom or don't prefer pastel pink in what will be your new office? In theory, you could wait to paint these rooms until after you move all of your belongings into them. But, if you've got time before you move in, take care of this colorful task early!

Hang the Blinds: Just like it's easier to paint an empty room, it is also easier to add blinds or other window treatments before you have to work around beds, sofas, desks or even moving boxes. If you've got time before moving your belongings into your new home this holiday season, hang the blinds and curtains. That way, your new home will feel even more like your own while you're stacking moving boxes along the walls.

Organize Storage Spaces: Another part of making a new home your own is finding an adequate number of places to appropriately store all of your personal items. If you think you'll need more storage space in your new home, add a shelving system or two. Making sure a new home is up to your organizational standards before you move in (and before the holidays hit) will help to ensure that all of your current items and all of your post-holiday gifts will fit, too!

Recruit Help: This tip should be a no-brainer; but, during the holiday season, you may feel reluctant to rely on other busy friends or family members who may be more than willing to help. Promise your holiday helpers a cup of egg nog and a slice of pizza and they'll certainly be glad to move a few boxes or look after your children or pets, so that you can get properly moved in as quickly as possible.

Meet the Neighbors: You don't have to host a holiday soiree while you're trying to get moved in. But, be active in your new neighborhood and you may just get invited to a community get-together or two. Compliment your new neighbors on their holiday décor or simply wave as you're walking or driving by. Remember, you're home now! Get to know the potential new friends around you!
We've made the new homeowner must-do list; now, homebuyers, you should have time to check it twice and still enjoy all the fun the holiday season is sure to bring! Happy homeownership – and, while we're at it – happy holiday season, too… it's here!