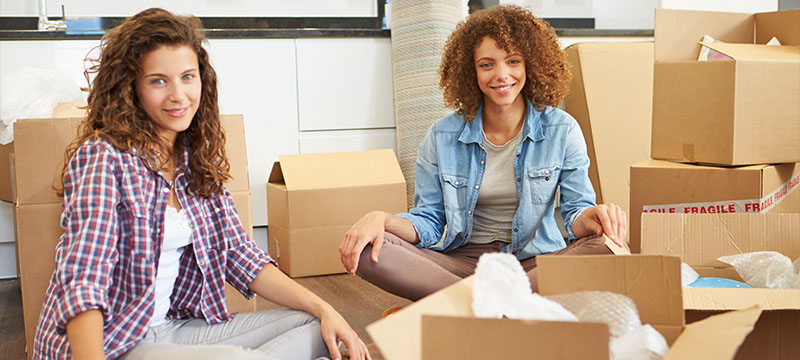 Moving Day on the Horizon? Spring into Action with these 10 Tips!
Well, we can finally say it… spring is on the horizon! And, you know what that means, the home-buying and moving season is about to start blossoming, too! How can home buyers plant their seeds for a successful move this spring?
Here are 10 dos and don'ts for a smooth moving process:
1. Don't pack in a hurry. Once you decide that it's time to buy, start to clean out rarely-used closets or tackle big spaces like basements or attics. Getting and staying organized during a move will make the entire process a lot more enjoyable for you… and any family, friends or professionals who are helping you.
2. Do involve the entire family. The moving process is filled with a multitude of emotions. A great way to help everyone feel involved and get excited about moving is to involve them in the process. Allow children to pack their own box of favorite toys or items that they'll want to remain close-by throughout the move and let them be the one to give these favorites a new place in your new house. That way, the new house will feel like "home" in no time!
3. Don't buy boxes. If you've hired a moving company, they may have a collection of gently-used boxes that you're able to share. You also can seek out businesses, like restaurants or grocery stores, for crates and boxes for packing. Sure, home improvement stores sell boxes; but, why not go green and reuse others if you can!
4. Do leave your clothes on hangers when possible. Not only will you be able to pack your closets more quickly, but you'll have less work to do when you're unpacking, too. Either use wardrobe boxes or wrap a manageable amount of clothes (on hangers) together to transport them to your new home.
5. Don't forget to label your boxes. Do this task for yourself, but also to aid anyone else who may be helping with your move. Don't just label what's inside of your boxes, but try to designate which room you'd like them to be placed. Trust us; you'll enjoy answering fewer "where did you want this to go again" questions on moving day.
6. Don't forget to shut off/turn on your utilities. And, do this task a few weeks prior to your move. Transfer any current utilities to your new address, if possible. Otherwise, get on your service professionals' schedules ASAP. Often times, cable and internet suppliers are booked up a few weeks out. You know you don't want to be without your Wi-Fi when you move!
7. Do update your address – everywhere. This task can be done at the same time you're handling your utilities. Here, think credit cards, driver's licenses, magazine subscriptions, college loans… everything. Though you may wish your bills wouldn't be able to find you sometimes, you've got to keep them updated and the sooner you take care of this, the easier the transition will be for you!
8. Do pack a box of essentials and take it over to your new home early. If your new home is within driving distance of your old home, then stock it with the cleaning supplies, toilet paper, paper towels, drinks and any snacks you'll want to have on-hand for moving day. If you're not easily able to do this yourself, make this box be the very last box that's placed on the moving truck. That way, it will be the very first box that goes into your new home.
9. Do make the beds first. After a long day of moving, you're sure going to feel like collapsing into bed at night. So, make sure that bed is available. Make it a priority to set up your beds when you first move in. That way, if every other room still feels like a mess, you can retire to the comfort of your own bed for a good night's rest before starting all over again in the morning!
10. Don't lose your sense of humor. Sometimes, moving can be a long, hard process… or, at the very least, a long, hard day. Expect a few "unexpecteds" to occur on the day of your move and take them in stride. After all, at the end of the day, you're living in your new home - and, that is a great feeling!
Are you ready to count yourself among the home buyers who will be making a move this spring? Contact a trusted Berkshire Hathaway HomeServices The Preferred Realty real estate agent to help with everything from your home search to moving day tips and more!