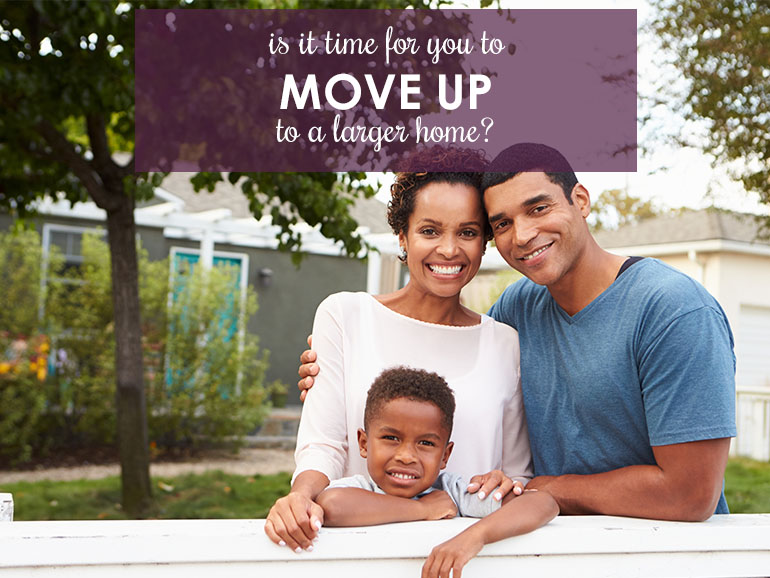 Movin' on Up: Reasons Why "Move Up" Buyers Should Act Now
Your closets are bursting at the seams… your kids are begging for their own space… and you're dying for a place to entertain guests – don't worry, you're not alone! For many homeowners, there comes a day when their current home no longer fits their needs. Coined "move-up buyers," these homeowners are looking to sell their home and move into something bigger and better.
With rising home equity values, move-up buyers are now realizing it's time to get back into the market. Sound familiar? If you've have been sitting on the fence waiting for the best time to sell your house and upgrade to a new home, now is a great time to act.
Here are a few reasons why:
Average Sales Prices Have Risen
According to the West Penn Multi-List Inc., the average sales price in the Pittsburgh area has risen 8% since January 2012. For many homeowners, this means their home is now worth more than it was two years ago. This increased equity in your home could help you sell your home at a higher price and, potentially, help you finance a home more suited to your current needs.
Homes are Selling Fast
With an influx of first-time homebuyers, homes are selling faster than they did in previous years. In fact, the number of days on market has decreased 8.6% since the beginning of last year. With this quick turnover, many home sellers are receiving multiple offers, as well as offers over the asking price.
Selling your home before buying a new home can be crucial for move-up buyers who do not want overlapping mortgage payments. Therefore, putting your home on the market at a time when homes are selling quickly is a smart way to avoid overextending your monthly budget. Just be sure to have an alternate place to stay in case your current home sells before you close on a new home.
Interest Rates are Still Low
With interest rates still at a historical low, you may find that you can afford more than you thought. Get pre-approved for a mortgage before you start searching for homes. This will help you determine what you can and cannot afford. Plus, interest rates may begin to rise again so locking in a low interest rate now will save money in the long run.
Plenty of New Construction Options
It's no secret that the existing home inventory in certain areas is low, so it may be hard to find a home that has every amenity that you desire. Before you give up, consider building a brand new home. There are many new construction developments in the Pittsburgh area that provide customized homes within various price ranges. New construction gives homebuyers the opportunity to choose features and custom touches that will best suit your needs.
For more advice, contact an experienced real estate professional at Prudential Preferred Realty or visit our website at www.PrudentialPreferred.com.