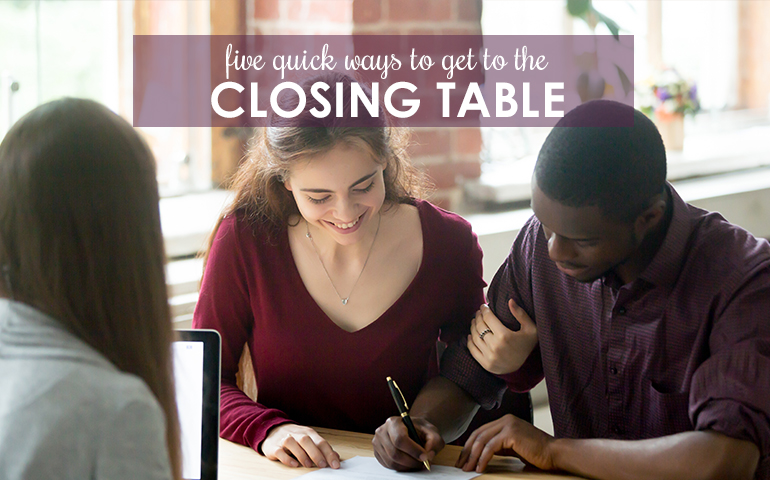 Mortgage Matters: Five Ways to Get to a Quicker Close
When you're waiting to move into a new home, a 30- or 60-day closing can feel like an eternity. While you can't file your own mortgage paperwork, you can do some things to help speed up your closing. If you're buying a home this spring, here are five ways you can get to the closing table a little quicker:
1. Get loan preapproval. Feel like you've heard this advice before during your home-buying process? You're probably right. Obtaining mortgage preapproval is one of the very first things you should do when you decide to buy a home. Not only does it reassure sellers that you can afford their home, but it makes you appear as a serious buyer when you're ready to make an offer. Loan preapproval can also be helpful when it comes to closing. You're required to submit a good amount of documentation to get preapproval, which means that you'll have to submit a little less when it comes time for final approval. In fact, you may just need to turn in updated copies of bank statements and pay stubs, which certainly will take less time to process.
2. Avoid spending splurges. Big changes to your financial picture can hold up your loan approval process. You may be excited to purchase appliances or home décor for you new home, but hold those thoughts until after you move in. Opening any new lines of credit or making large purchases could slow your closing process. Feel free to gather ideas about what you might want to buy to fill your new home, but don't take that next step until after you've got your home keys in hand!
3. Stay put at work. Perhaps your new home search has also inspired you to search for a new job. If you were considering taking a new career path or starting your own business, put those ideas on the back burner until after you close. While they are very ambitious, they also could interfere with your loan approval. Remember, you've already submitted pay stubs for loan preapproval. Changing employment would require new pay verification, which could lengthen your closing period.
4. Attend your home inspection. When you're on your way to closing, you'll hire a home inspector to make sure your chosen home doesn't have any hidden issues that may prevent you from moving forward. Instead of just relying on your inspector to scour the home, tag along. You'll see what items may need to be repaired or any that may be deal breakers. Of course, that is the worst-case scenario. But, if you walk through your home with your inspector, you'll have a great idea of what you may want to negotiate with the seller. If you simply wait to get the inspection report, you may have less of an understanding about what should be addressed. Our advice? Accompany the inspector, so you can deal with potential issues right away!
5. Stay ahead of the closing process. Your bank or mortgage lender will surely keep in touch with you about any documentation or items they may need you to submit during the closing process. However, if you feel like there has been a lapse in communication, be proactive and reach out for answers. You'll ensure your loan is being processed as efficiently as possible. Plus, you'll know that you've turned everything in on your end. You don't want to overwhelm your lender, but it is OK to keep tabs to make sure the approval process is moving along.
When you think about the length of time you'll likely be living in your new home, your 30- to 60-day closing period is no time at all. But, when you're in the thick of it, days seem to drag on so slowly. Do your part to make sure your closing process goes quickly—you'll be in your home in no time at all!