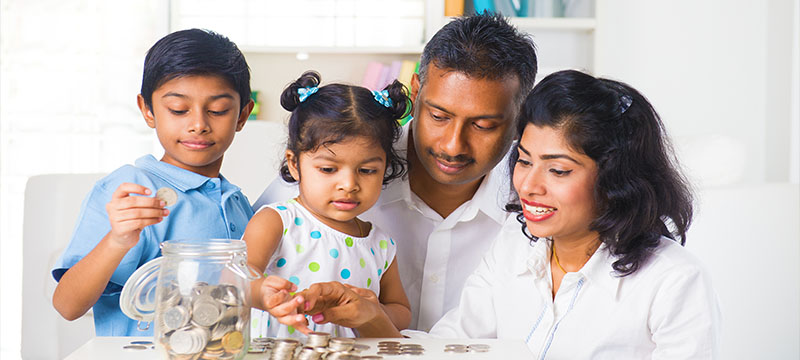 Money Matters! 5 Ways to Teach Your Kids About Spending, Saving and More!
Tax season has arrived! So, while you're waiting for your W-2 to arrive and either lamenting or complimenting last year's tax decisions, it's time to start thinking about the future. And, we're not even talking about your future – we've already offered you a few tips on spending and saving this year.
Instead, we're talking about those dependents you undoubtedly claim when tax time rolls around. As we all seem to find out at typically the most inopportune times, our children are ALWAYS watching what we say and do. So, this tax season, let's give them some positive financial behaviors to imitate!
Tax time is a great time to teach your children about money and here are five great ways to start doing so today:
Don't shy away from financial conversations. As much as you may not want to discuss income, bills or other big financial decisions with your children, you shouldn't shy away from answering questions they may have about money. Of course, you want your children to feel comfortable coming to you with any questions and financial ones should be no different. Talking responsibly about money in front of your children will teach them not to feel anxious about finances.

Involve your children in regular grocery shopping. Parents of toddlers may shudder at the thought, but actually bringing children to the grocery store is a good way to help them learn about spending and making financial decisions. On any trip to the grocery store, children may see you using coupons, comparing brands or taking advantage of weekly specials. All of these activities may encourage children to start asking financial questions. To really involve children in your regular trips to the grocery store, ask them to help you cut coupons and allow them to hang on to the ones they cut while you're at the store. This may even be a good reminder for you to actually use all the coupons you cut!

Play financial games with your kids. If you really need that trip to the grocery store as some alone time or you're just not able to let your kids tag along all the time, set up a pretend grocery store or restaurant at home. You'll get valuable one-on-one time with your kids and what child doesn't love a little pretend play? In reality, playing grocery store or restaurant can teach children about the value of working, spending money and commerce in general. The best part? You don't actually have to spend any money to teach your children these financial lessons at home!

Give children an allowance. You know you had one when you were little; now may be the perfect time to pass that tradition down. One of the very best ways to teach children about the value of money is to allow them to have some money of their own. A weekly allowance also teaches children the value of hard work, as they can earn their allowance by completing household chores, like making their bed or taking out the trash. They're also able to learn the very first things about saving their money or spending it when they've got an allowance. Basically, an allowance is an excellent way to open up the financial conversation in your home.

Open a savings account for your child. That piggy bank that your mom got your son or daughter when she was a baby just doesn't cut it when it comes to teaching your children financial responsibility. Once children are able to make their own money, even if it is just a weekly allowance, teach them how to save their money by opening them their own savings account at the bank. They'll be able to see their money and actually see how it is able to accrue over time, if they're savvy enough to save it!
By and large, the best way to teach children to responsibly handle money is to model good financial behavior. Beyond that, there are various other ways to let children know the importance of money without scaring them about actually using it. Let this tax season be a reminder for you to start teaching your children about responsible financial behavior today!
This post is sponsored by PA Preferred Mortgage:
Pennsylvania Preferred Mortgage is a full service mortgage banker and is a member of the Prosperity Home Mortgage, LLC family. Specializing in residential and refinance loans, Pennsylvania Preferred Mortgage offers a wide range of mortgage products, including fixed and adjustable rate mortgages, jumbo loans, Federal Housing Administration (FHA) and Veterans Affairs (VA) loans, and renovation financing. Learn more at www.papreferredmortgage.com.