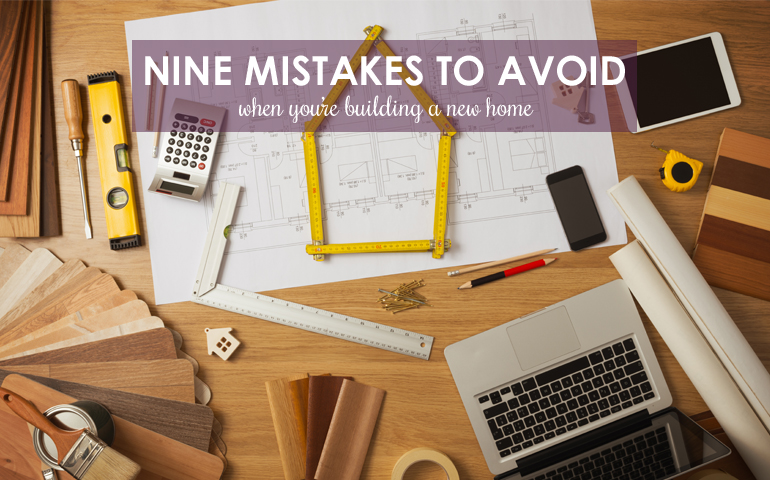 Nine Mistakes to Avoid When You're Building a New Home
Building a home can be an incredible process that is full of choices and customization. It can result in the home of your dreams. However, building a home also can be a design and construction nightmare for months on end. Of course, these are the extreme ends of the spectrum, but you if you've decided to build your next home, you will want to know exactly what you could be dealing with—or at least what you should be looking for.

Here are nine mistakes to avoid when you're building a custom home:

1. Building your dream home in a bad location
Having the freedom of choice is an amazing feature of building a home. But that doesn't mean you should build a home where you can afford every available option if you're going to be living in an area that is unsafe or not close to any of your desired amenities. When you're building a new home, choosing a location can be just as important as selecting your upgrade options.

2. Not having everything in writing
Some home contractors may agree to complete your project without having you sign a contract. That may sound great, but that also means that you don't have anything in writing, including project cost or timeline. Play it safe and demand a contract before any work begins.

3. Thinking you can eliminate delays
Just because you have everything in writing does not mean that your home construction project will go exactly as planned. When you're building, you're at the mercy of subcontractors like plumbers, electricians, inspectors, and others. Expect a few bumps in the road when you're relying on multiple subcontractors to complete specific jobs at once.

4. Overextending yourself on your mortgage
It is easy to get excited about all the options that come along with building a home. However, it also is easy to reach the top of your budget. When it comes to customizing your home, make sure you're comfortable with where your preferences are putting your monthly mortgage.

5. Changing your mind frequently
You may think you have it all figured out when you first sign on to build a home… the design, options, everything. But, as you move through the build process, you may think of or notice things you would like to change. Not only can those changes add time to your build process, but they also can be costly. Try your best to stick with your original plan when you're building a custom home.

6. Building only for now
When you build a home, it is easy to think about your immediate future. Young families may want to include extra bedrooms or playrooms. But if the plan is to stay in your home long-term, you may also want to consider what kinds of needs you'll have when you're older. Accessibility could be the key when you build. Consider how long you plan to live in a home before you settle on a design.

7. Skipping inspections to save time
Regardless of the price or the number of times it takes to schedule and complete your home inspections, it is foolish to forego them. Even if you're working with an experienced builder, you should know that mistakes can happen. Let an unbiased inspector determine that your home is safe and ready for move-in day.

8. Not personally checking on the work
It is important to have a professional inspector ensure the safety of your home. But, it also is important for you to check in on the build process from time to time too. No, you don't need to make a daily visit to see how progress is going, but you should visit the home regularly to check on completed work.

9. Spending everything up front
If you're looking to build a home at the top of your budget, you may not have any money left to pay for any upgrades or changes you request along the way. Factor in certain overages when you first decide to build. This way, you will have a little cushion for any surprises that come your way during the process.

These nine steps may help guide your next home-building process. If you're ready to start a new project, let us know. An experienced real estate professional can help you get started today.