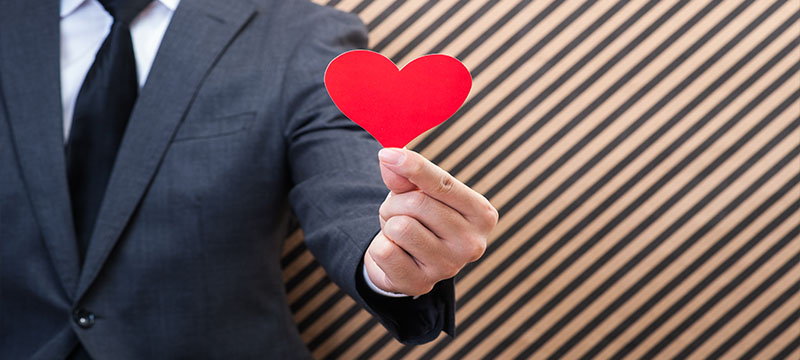 Meet Your Match! Tips for Finding a Real Estate Agent You'll Love!
Were you looking for "the one" this Valentine's Day? You know, someone who will be attentive to your wants and needs, always openly communicate with you and be there for you whenever you call? Yes? Well, then you've come to right place!
That is, if you're talking about finding a real estate agent that's perfect for you… that is what you were talking about, right?!
Well, we may not be love gurus, but we do know a thing or two about helping buyers and sellers find a real estate agent that they're compatible with. So, in the spirit of Valentine's Day, we've got a few tips for buyers and sellers, who may have been looking for real-estate-agent love in all the wrong places!
Here are a few tips for finding a professional real estate agent that is perfect for you:
Shop around. When it comes to real estate agents, you may not always find love at first sight. Of course, it is possible that you may have an instant connection with that one agent that you happen to meet at an open house you randomly decide to drop by; but, when you're looking for an agent to represent your needs, it is important to talk with several professionals before you decide that you've found the perfect person to work with you.

Ask about their past. This tip includes mentioning everything from an agent's credentials to their former clients. The internet is a great tool for checking up on a potential real estate agent's credentials and licensing, but it is OK to do it the old-fashioned way and ask prospective agents about their work with former clients. An agent should be happy to point you in the direction of clients they've helped to buy or sell properties in your area.

Talk with their exes. Ok, so it may seem a bit harsh to refer to former clients as "exes," but it fits the holiday theme, right? When you're searching for a real estate agent that may help you make your buying or selling dreams come true, talk with clients they've recently worked with! Finding out what an agent's former client experiences were like may give you a good idea of what your professional relationship will be.

Take advice from your friends and family members. Now, we're not saying that you have to let your mom "set you up" with her social club friend's son or daughter, who just happens to be a professional real estate agent, but it is a good idea to take some referrals from friends, family members or even coworkers when it comes to picking the right agent.

Embrace the online scene. These days, you're not always going to run into "the one" at the grocery store, bank or another local hot spot – particularly when it comes to finding the right real estate agent. When you begin your home search online, don't be afraid to also start searching for your perfect agent. In all seriousness, scanning an agent's professional social media sites may be a great way to get a feel for their reputation and current client experiences.

Meet their "friends." Real estate agents are known for having connections when it comes to professionals who can assist with your home sale. When you find an agent, they should be able to put you in touch with trusted service providers like contractors, lenders or appraisers who can help you through the home sale or purchase process. Make sure that you find an agent who's willing to introduce you to their professional "friends!"

Trust your instincts. Maybe you did love the first real estate agent you interviewed. Maybe you fell in love with the seventh one you met. Whoever makes you feel the most comfortable and motivated about your future home sale or purchase may be the one that's right for you. When it comes down to it, no one can tell you who you love… even when you're talking about real estate agents. The bottom line for falling in love with an agent that will help you with your home sale or purchase? Trust your instincts!

Keep the communication lines open. So, even when you've found "the one," there is still work to do, right? Of course, this is true in every relationship! And, it is especially two-fold when it comes to selecting a real estate agent. For a successful relationship with your real estate agent, you've got to remember to keep the communication lines open. If you are not happy with the way your transaction is going, tell your agent. Likewise, your agent should openly answer your questions and tell you about any issues or progress that is going on with your transaction.
Does this Valentine's Day find you looking for a real estate agent that you'll love to work with? Let us play Cupid! Take our Real Estate Agent Compatibility Test today!