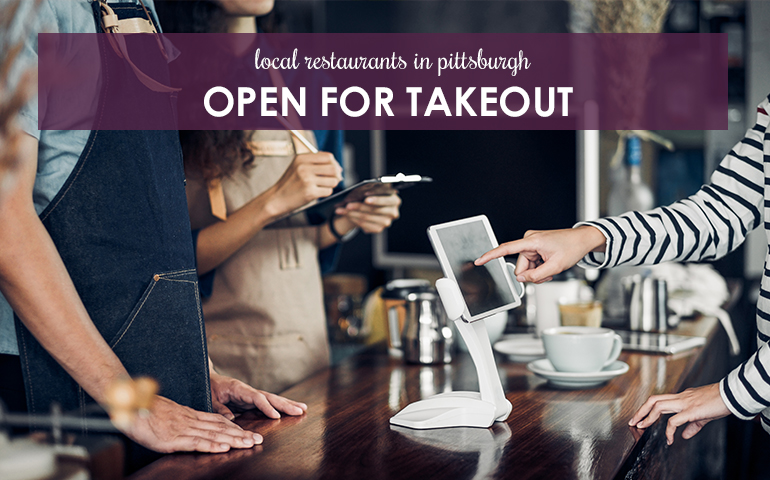 Local Restaurants in Pittsburgh Open for Take Out
If you are running out of meal plans for your family or have never been much of a cook, we have you covered! Many local restaurants are providing take out and delivery services in response to Pennsylvania Governor Tom Wolf's order to shut down all bars and restaurants. Now, restaurants have shifted their focus to takeout and delivery options as a way to keep business going while still exercising proper social distancing and protecting the health of the public and their staff. Below is a list of local restaurants open for take out and delivery during CVOID-19 closures.

Both Fiori's restaurants are open for take-out during this time. Fiori's is also selling take-home pizza kits with all the ingredients to make at home pizzas. This is a great activity to have your kids be in the kitchen! The kit includes all the ingredients: dough, sauce, cheese, pepperoni and more.

Alta Via, located in Fox Chapel is open for take out orders. Get fresh, homemade pasta to go! The restaurant is offering take-out Monday from 4-8 p.m., and Tuesday – Sunday from 11:00 a.m. to 8:00 p.m.

Downtown's Or, The Whale has a new take-out menu, available Tuesday through Saturday from 5:00 p.m. to 10:00 p.m., including mussels, wings, smoked smashed potatoes, cauliflower steak, salmon, scallops, fish stew, burgers, fried chicken sandwiches, chicken with roasted vegetables and more.

Craving tacos? Doce Taqueria located in the South Side and McKnight Road are open for take out and delivery on Toast, Uber Eats, DoorDash and GrubHub. You can get your fill of chips and queso and even a to-go margarita!

Lebo Subs in Mt. Lebanon is offering take-out with no minimum order. Delivery options are available on orders over $20, plus a $5 surcharge to cover drivers. Pre-pay with credit or debit card. The full menu is available for both take-out and delivery, including soups, salads, pastas and meats and cheeses by the pound.

Sorgel's in Wexford is offering an essentials box with everything you need to make dinner at home for a few nights for $100. Pay online and pick up in the market!

Just because the fish fry is closed doesn't mean you can't eat sushi. The Slippery Mermaid in Sewickley is open for take out, curbside and six-packs.

Oakmont Bakery is offering all kinds of sweets and treats for take-out, along with fresh-baked bread. Orders can be taken via phone at 412-826-1601 or online, and pickup can be made curbside in their parking lot.

Mike & Tony's Gyros is offering take-out and family-style catering at all four of their locations. The South Side location is open daily from 11:00 a.m. to 8:00 p.m., the downtown location is open Monday – Friday from 11:00 a.m. to 2:00 p.m., the Bridgeville location is open daily from 11:00 a.m. to 8:00 p.m., and the Moon Township location is open daily from 11:00 a.m. to 8:00 p.m. The Bridgeville and Moon locations also sell beer, so guests are able to purchase drinks to take with them, along with six-packs.

DiAnoia's Eatery in the Strip District is offering a hybrid of its lunch and dinner menu for takeout and delivery from 11:00 a.m. to 9:00 p.m. Tuesday through Saturday. Family-style meals also can be pre-ordered online for pickup. Orders can be placed by phone at 412-918-1875 for takeout (including a curbside pickup option) or via GrubHub for delivery.

First Watch cafes throughout Pittsburgh are now open for take-out. The restaurant's six locations are all open daily from 7:00 a.m. to 2:30 p.m., offering a limited menu.

Bridges & Bourbon is offering a special carry-out menu with options like Chipotle Fries, burgers, gnocchi, Strip steak, and a family dinner package, with a whole-roasted chicken, potatoes, beet salad and gravy for $40. They're also offering gift card specials right now!


Be sure to keep supporting local businesses when you don't feel like cooking in and share your eats with us on social media! For a complete list of restaurants open for takeout and delivery click here.