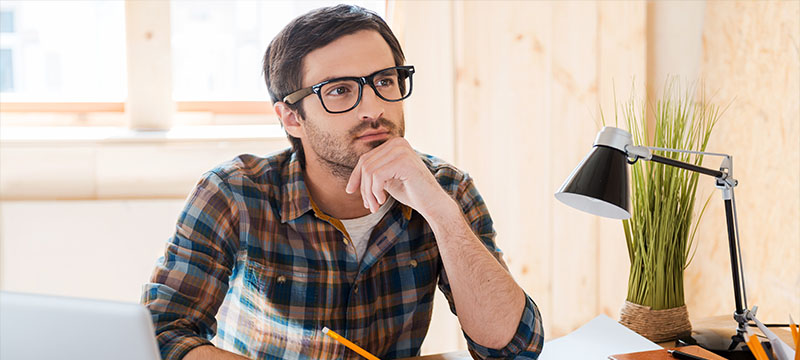 It's Not All in Your Head: 10 Thoughts on Every Home Buyer's Mind
Whether you're buying your first home or you've bought and sold several homes, there are just some thoughts that run through the minds of home buyers everywhere. From scoping out the best mortgages to determining a reasonable offer and more, buyers just seem to think alike at certain times of the home-buying process.
So, if you're a buyer feeling alone at any point, take comfort in knowing that many other buyers have thought these same 10 things during the home-buying process:
1. Is now the right time for me to buy a home?
There is no one that takes the decision to buy a home lightly. Buyers pore over everything from the time of year they plan to buy to whether or not buying is more cost-efficient than renting for their lifestyle.
2. How much home can I afford?
Once that #1 home-buyer question is answered with an emphatic "Yes, it is time to buy!" buyers immediately begin to consider how much home they can afford to purchase. Of course, this is a logical "next step" as this information is need-to-know before buyers can begin to seriously browse homes.
3. Do I need to get pre-approved before I begin looking at homes?
Though a buyer may think they have an idea of what they can afford based on their income and expenditures, it is wise to seek out lenders for confirmation on what they will be allowed to borrow. Bank pre-approval not only gives buyers that kind of confirmation, but it also lets sellers know that buyers are serious when they come browsing through a home.
4. What do I need to get a mortgage?
Though a buyer secures mortgage pre-approval, that does not mean they've secured a loan. Lenders require buyers to submit information, like bank statements, pay stubs and credit history before they make a deal on a home mortgage. Each lender may have similar requirements, but it is necessary to speak directly with a chosen lender to follow their particular mortgage approval process.
5. How much money do I have to put down on a home?
Conventional mortgages used to require home buyers to put down at least 20% of a home's price. Today, lenders offer buyers many different conventional loan options that may allow a buyer to put down as little as 3% of a home's price. The federal government offers first-time home buyers and veterans loan options that require no money down. Each lender is different, so buyers should shop around to find the mortgage that best suits their needs.
6. Am I really going to have to repaint this?
It may seem like a petty thought, but to a buyer who already is envisioning all of the packing, cleaning, moving, unpacking and setting up they'll have to do to get comfortable in their new home, painting is one of the last things they want to think about. So, it is sometimes best for sellers to put their personal artistic preferences aside when it is time to show their homes. Neutral colors just tend to be more appealing to buyers.
7. Can I keep those blinds? The curtains? That table?
When a buyer falls in love with a home, they may fall in love with its structure; but, they also may fall in love with certain aspects of the home's décor. Typically, items like blinds and window treatment hardware are included a home sale. However, curtains and other furniture are not. But, sellers beware; some buyers may love non-included items so much so that they could negotiate for them to be included in the home sale.
8. How do I even make a home offer, let alone a reasonable one?
For the most part, gone are the days where Dick can just call Jane to submit his offer on her home. Frankly, Dick may not even know what Jane's home is worth in the first place. When it comes to making an offer and negotiating on a reasonable price, buyers can turn to their professional real estate agents for help. Agents are happy to complete a comparative market analysis to make sure a buyer's offer reflects a home's worth. Additionally, an agent will do all the talking when it comes to submitting an offer and negotiating on any part of the deal.
9. Do I even need to have a home inspection?
Buyers often get caught up in the excitement of buying a home and want to hurry along the closing process as much as possible. But, skipping a home inspection is not a good way to get into a new home any sooner. In fact, not completing a home inspection before buying a home actually could cost a buyer in the long run. If an inspector uncovers previously unknown issues with a home during the inspection, a buyer has the opportunity to have them addressed or walk away from the sale.
10. What are closing costs?
There are several fees that are paid at closing. Though they can be paid by either the buyer, seller or split between both parties, closing costs typically include the inspection and appraisal fees, title and lawyer fees, any home warranties or private mortgage insurance fees, home insurance, taxes, possible home owner association dues and various other costs.
Are you a home buyer with these questions and more on your mind? Are you planning to sell a home and want to know how to best reach buyers? Whatever real estate move you're considering, a friendly, professional Berkshire Hathaway HomeServices The Preferred Realty agent is ready to help. Meet your real estate agent match today!