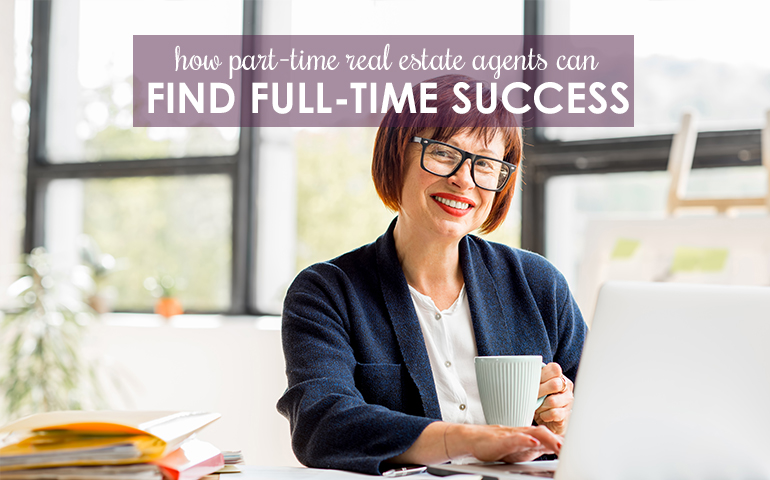 Tips for Part-time Real Estate Agents to Find Full-Time Success
The changing seasons could have you thinking about making some other changes in your life. Perhaps you're considering the prospects of a career change. While certainly exciting, diving into a new profession can also be terrifying! If you're looking for a bit of a safety net before making a total change, a professional career in real estate could be exactly what you're seeking.
In fact, beginning a career in real estate as a part-time agent is not uncommon. First and foremost, it can be nice to have the financial security of a full-time career when you're a new agent learning the industry. Some agents find luck and close a deal shortly after they pass their licensure exams. Frankly, some don't. Having a second income to support your new venture can help give you the financial peace of mind and confidence you may need to pursue your real estate dreams.
Another reason that starting out as a part-time real estate agent can benefit new agents is that it gives them a great opportunity to build up their reputation. Taking a slower step into a real estate career can ensure you're not taking on too many clients at once. This way, each client gets the very best customer service you can give. What will satisfied clients give you? Excellent reviews and referrals! And, in the real estate industry, that word-of-mouth advertising goes a long way.
However, as a part-time agent's success grows, so do the demands on their time. This is where it can become difficult to balance two careers. It can be hard to return emails and phone calls in a timely manner when your time is divided between competing priorities. In addition, it can be difficult to find balance at home after working a full day in one career, then shifting gears to meet buyers' and sellers' needs during the evening.
Some part-time real estate agents choose to work as part of a team, so they can be sure they're providing clients with superior customer service despite their limited time. This is a great option, provided the part-time agents understand they may also be sharing commissions with their team members.
Ultimately, many part-time real estate agents decide to make the transition to become full-time agents when the time is right for them. That time differs for every agent, but some indicators may include:
Increased financial security stemming directly from your real estate transactions
A growing client base made up of satisfied buyers and sellers—and their referrals
Lack of time to devote to two professional careers
The bottom line when it comes to a part-time career in real estate is that it is a great way to begin a journey into the industry. It just so happens—that journey often leads into a fulfilling full-time career!
If you're interested in making the transition to a career in real estate, know that you can survive (and thrive) whether you start out as a part-time agent or dive right into a full-time position. At Berkshire Hathaway HomeServices The Preferred Realty, we can help you get that exciting career started. Learn how you can begin a career in real estate today.