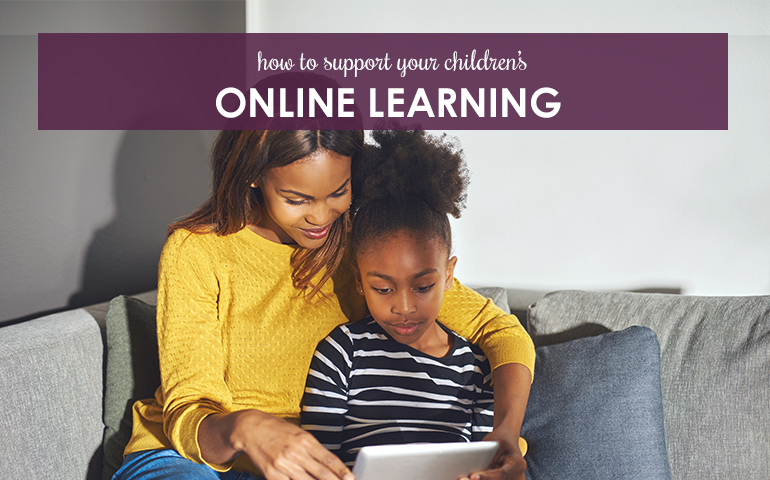 How To Support Your Children's Online Learning
Now that schools are closed and learning has moved online, it is important to make sure your children have the necessary tools and support to make their online learning experience the best it can be. While your living room may not be the same as the classroom, with your help and a few tips, you can help your child make the most out of learning at home!
Make a Space For Learning
Make a separate desk space for your children, just like you have set up your home office. Kids achieve their best work in a quiet, comfortable and dedicated space devoted to learning. Ideally, this will be a different set-up than where they normally play games or watch television.
Have "Recess"
Make sure your kids take plenty of breaks in order to get physical activity and time away from screens. Set alarms similar to those they would encounter at school and encourage them to get up, get some fresh air, go for a walk or bike ride, or have a snack so that they are not sedentary for the entire day.
Ask Questions
This time is just as challenging for students as is it for parents and teachers who are trying to support online learning. Make sure you are following up with your children a few times a day and are asking them questions about their work and how they are handling the adjustments. This will not only help you understand what they are doing in the classroom, but it will also help them feel free to ask questions they might have. It is also a good idea to make sure your child is completing their work by checking in with their teacher. You might also consider checking your children's grades online. Sometimes children may report to have completed something or think they have completed their work when in actuality they haven't.
Don't Be Afraid To Ask For Help
Making sure your children are understanding their lessons is one of the most important things during this online learning period. Reaching out to their teachers for a little extra help or advice on how to make their learning experience better can be very beneficial to your child.
Don't Forget to Have Fun
Plan off-screen activities for the whole family. Between school and work obligations, it's rare for parents and children to have this much time together, so turn it into an opportunity for bonding. Write predictions for a TV show that the whole family watches. Organize a tournament, family card games, charades or chess, or get outside for a hike or walk together after school. Follow your community's guidelines about safe behavior and events, of course, but make sure you still find time for fun with your kids.

Without a doubt, this is a challenging time for parents, teachers and children alike. With a little help though, your children might even benefit from being home and utilizing online learning. Be patient and we will all get through this together.