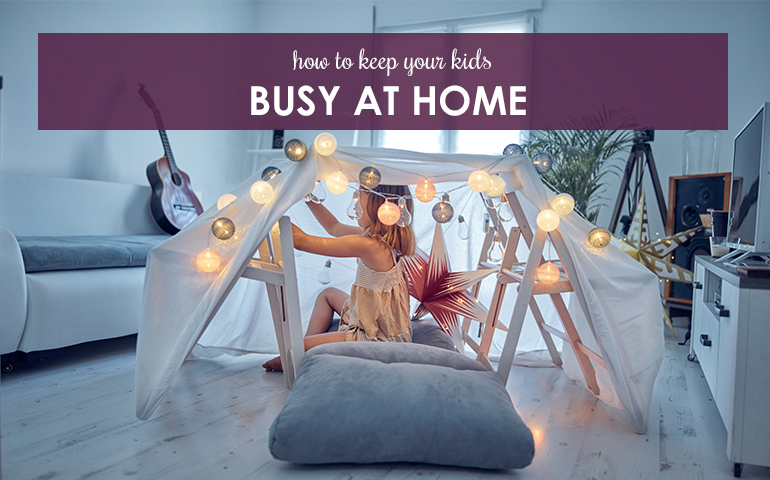 How to Keep Your Kids Busy at Home
There's no doubt about it -- trying to juggle working from home with children is challenging. Whether you're on a Zoom call, focusing on writing, or trying to balance a budget, having kids around your home office is tricky. Having activities planned for your children during this time will help with your productivity at home and help keep them busy and entertained so that you can get a few things done.
Dress Up
If you have a dress-up box, pull it out and if not, create one with hats, socks, coats, purses, shoes, boots, kid glasses, costume jewelry, old dresses or Halloween Costumes, jackets, or really anything you can find around the house. This is a perfect way to put old clothes to use if you can not donate them right now. After your kids dress up, hold a fashion show and let them show you their best looks!
Have a Camp Out
Set up a tent or fort and have your kids pretend they are at summer camp or in the woods without leaving your living room! Let your kids get comfy with pillows and blankets, keep them fed with healthy snacks, turn out the lights, and give them flashlights for making shadow animals. Throw in some stuffed animals for company, some binoculars to keep a watch on the bears, and some animal picture books.
Make a Mini-Golf Course
Create an obstacle course for your kids to play a game of mini-golf at home! Make a line of cones or upside-down plastic mixing bowls and have your child put their way through the course. Items can be placed in a straight line or around a room. If you don't have kid-sized golf clubs, your kids can use a fly-swatter or a mini stick. You can even include small prizes or coupons such as an extra hour of TV if they win the game!

Sidewalk Chalk
Use this sidewalk chalk to set up a variety of games for your kids. Draw a hopscotch pattern on the ground, provide your kids with beanbags or rocks, and let them hop away. Draw a maze with loops, lines, and curves and see if your kids can walk forward and backward on the maze. This is also a great way to have them brush up on some math skills in a fun way or showcase their artistic talent!
"Paint" The House
Bring in the painting crew without actually worrying about the color of your walls or outdoor furniture being changed. Provide your children with paintbrushes of all sizes and a pail or two of water. Kids love seeing the "paint" go on walls or fences and instantly drying. You can also have them practice learning their shapes or numbers in a fun and creative way!
Set Up a Treasure Hunt
Treasure hunts are pretty easy and depending on how many items there are and how challenging you make the hiding spots. Hide anywhere from 10 to 20 items around the house or outside to keep kids occupied for a few hours. You don't need anything fancy to make this game fun, use household items or kids toys to make it fun!
Bake Together
Cookies, cakes, brownies. Anything! Baking is a great lesson in measuring, ingredients, and of course, making delicious goodies. You can use this time to test out new recipes or try substituting healthy alternatives like using avocado in place of an egg.
Make Your Own Play Dough
Need a recipe? Check out this step-by-step video on Youtube. All you need are quart-sized bags, all-purpose flour, salt, cream of tartar, water, veggie or coconut oil, and food coloring. You could make it more interesting by adding in some glitter or multiple colors! This is also a great learning opportunity for colors. Quiz your kids on what the colors are and what mixing colors together makes.
Coloring Pages
Coloring pages are a great way to keep your children entertained on a rainy day or to cut down on screen time. Check out our coloring pages at The Preferred Realty!
Keeping your kids busy during this time can be challenging, but can be done with household items and minimal effort. Whether you want to bake a cake or draw with sidewalk chalk there are plenty of ways to entertain your children without leaving the house!