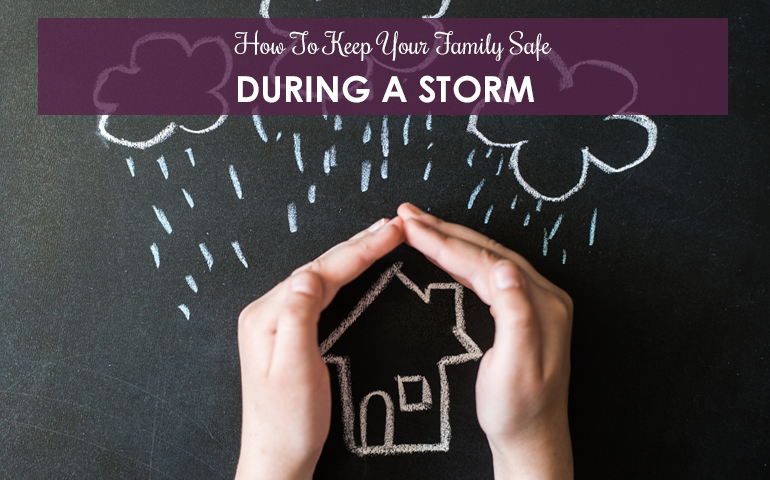 How To Keep Your Family Safe During A Storm
With storm season upon us, it is important that you learn how to protect yourself, your family and your home from the danger of storms. Keep reading for more information and safety tips.
Keep Up with Repairs
These safety measures should be a priority all year round. This way, when a storm comes, you will not be scrambling to prepare.
Check for loose shudders, fence posts, or siding that could fly off and cause damage to your house. Get replacements immediately.
Trim dead branches off your trees and bushes often so they do blow away and crash into your home.
Make sure your gutters stay clear for water to run through.
Prepare for the Storm
If a storm is on the radar, you will want to keep these precautions in mind before it begins.
Bring anything inside that could be picked up by wind such as garbage cans or small flower pots.
Make sure all windows are closed.

Post-Storm Cleanup
Here is what needs to be done after the storm has passed.

Pick up branches and leaves in your yard, but avoid any that have fallen across power lines. This is a huge safety hazard.
You should also call a professional to pick up large trees or branches so you do not get hurt.
Check your house for water rings or saggy spots on the ceiling or floor. If any are found, you should contact a professional about repairing water damage.
Check your local news sources for any safety information. Sometimes the water is unsafe to drink or there are areas of town you should avoid. For more information visit the CDC website.

Personal Safety
Keep these tips in mind for staying safe during and after a storm.
Find a safe spot to hide in your house in the case of a severe storm. The best option is a room with no windows. Avoid upper floors, and stay in the basement if possible.
If you are driving after a storm, proceed slowly and carefully as there may be debris and puddles.
Make an emergency kit with items like canned food, bottled water, flashlight, radio, lighter, batteries, ect.
With this information in mind, you should be ready to take on storm season. From all of us at Berkshire Hathaway HomeServices Stouffer Realty, we hope you stay safe and healthy this summer!