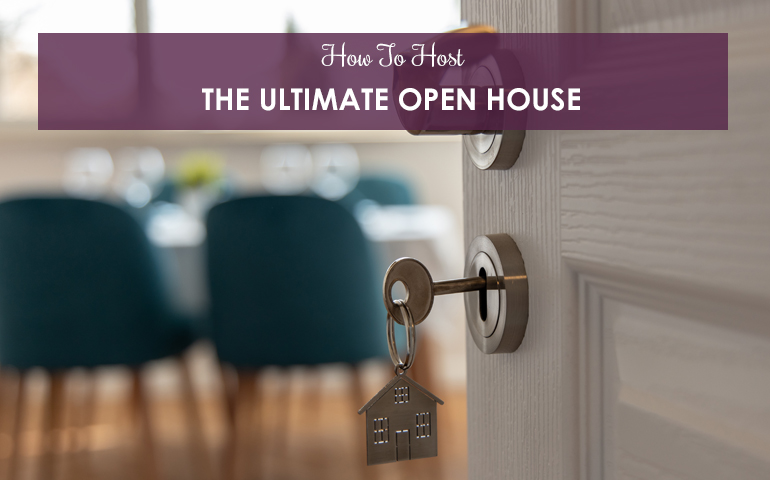 How To Host The Ultimate Open House
Did you know, open houses are a great way to show off your home and attract prospective buyers? Preparing the house and property for visitors takes a little time, but welcoming potential buyers with a little hospitality goes a long way towards making a sale. Make a checklist and work the plan, so you don't leave anything out!
1. Landscaping
Make sure that your grass is cut, bushes are trimmed and weeds are whacked. Check flower beds for weeds and eliminate them. A fresh coat of mulch can cover any blemishes or clover that is too difficult to remove.
2. House Exterior
Does your front door or shutters have noticeable damage? If so, you should repaint them. Does your front porch have any broken spindles? A broken piece of the exterior can give an instant bad impression of the rest of your house before the potential buyers even enter. Hire a contractor or replace any broken structure yourself.
3. Pets
Not only can pets cause a distraction, but they can also make people assume that your house might not be so clean. If you can, try and take your furry friend to doggy daycare for the day or if possible have a friend or family member watch them during viewings. If neither of these options are possible, be sure to let your agent know ahead of time that your pet will be staying home.
4. Declutter
Treat people viewing your home like you would treat an old friend visiting from out of town. Get the shoes out of the entryway, kid's toys off the floor and jackets and shirts off of your chairs. In addition to clearing out the clutter, remove items like framed family photos and memorabilia. It's hard for a buyer to picture living in the home if they see photos of you around every corner.
5. Clean, Clean, Clean and Clean Again
Vacuum, dust and scrub! Even if your home is well-maintained, there is no substitute for cleanliness. You want potential buyers to be able to imagine your home as their home, which is nearly impossible for them to do if they enter a dirty home. If you are really busy, consider hiring a cleaning service to come in and do a one-time cleaning from top to bottom.
6. Furniture
Rearrange your furniture to maximize the potential space. You might want to hire a professional stager to help you create the most appealing layout. Be sure to speak to your agent for recommendations.
7. Paint
Clean up the dings and scratches on walls and moldings. You want every room in your home to be fresh and look shiny and new. So, if you painted a fun accent color on one of your walls, sometimes it is best to consider repainting the room a more neutral, easy tone. Not everyone is as daring or eccentric as you may be, so the less work you leave for a buyer the better.
8. Leave
Unless you're selling your home yourself, leave the showing to your real estate agent. Buyers will feel more comfortable and will be more honest about their impressions without you around. This input can help you make any improvements necessary for the next guests.