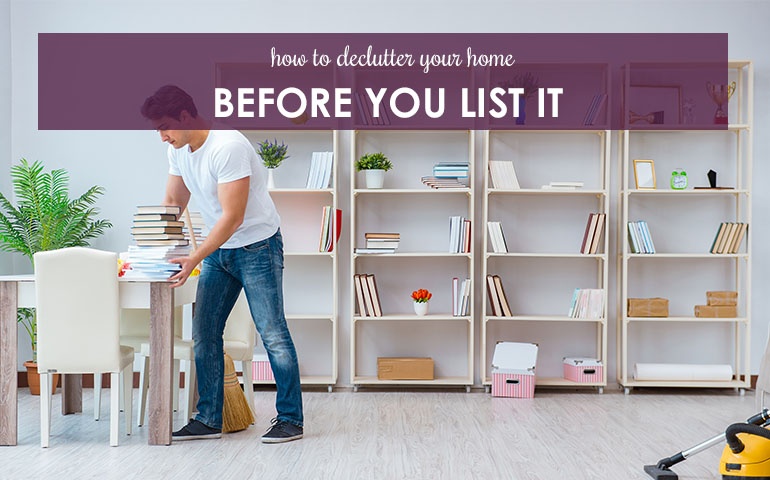 How To Declutter Your Home Before You List It
Are you looking to list your home in the spring? If so, you might want to take the time now to start organizing and decluttering your home. Decluttering your home can be a big job, but will be worth it in the end. The best way to tackle it is in stages, try to focus on one room, one space, or even one zone within a room (like your kitchen cabinets), completing the job fully before moving on to the next space. Not only will decluttering your space make your home more appealing to a potential buyer, but it will make your move go a lot smoother!
Kitchen
Some consider the kitchen to be the heart of the home, which can make it a little tricky to keep organized. It can be easy to start throwing kitchen items in cabinets just to get them out of the way, but the key to a great kitchen is organization. Start by taking everything out of your cabinets and drawers and get rid of any unnecessary items. After you have assessed your items you can start putting them away! Start with your powerhouse storage spaces first, such as the pantry and upper cabinets. Then move onto the lower cabinets, drawers, the space under the kitchen sink. Making sure you put everything away in its place when you are in the kitchen will help you maintain a decluttered space!
Bathroom
Keeping your bathroom organized can be challenging, especially if you have a smaller space or limited storage. Start with your medicine cabinet. Take everything out and discard outdated medications, makeup, and skincare products. After you have gone through everything consider purchasing organizing bins so you can keep everything in place in a cabinet or under the sink. Then move on to the closet and refold towels and sheets, organize cleaning products and get rid of anything unnecessary that is taking up space.
Closet
Ok, deep breath. It's time to tackle your closet. The easiest way to declutter a closet is to first declutter your clothing by type. That means start with shoes, then boots, then dresses, then denim, etc. Once you have gone through your closet, try and separate your clothes into what you will fold and hang up. Any clothes that do not fit or are not your style anymore, you can donate!
Bedroom
The first step to organizing and decluttering your room is to always make your bed, it will make your room more put together and leave you feeling less stressed. Creating under-bed storage will help in keeping your room organized. Do a walk-through of your room and take a look at everything that is laying around. Storing unnecessary items under your bed in storage bins will help keep your bedroom clean and organized.
The biggest reason people give for moving houses is a lack of space in their current house. They feel they have outgrown the space and are therefore looking for a home that gives them that space, and more to grow into. If they come to your home and see that you have a lot of space, it's the biggest turn-on you could give. Another added bonus to decluttering is you will save time and have a lot less to move. Simple decluttering will really make all the difference!