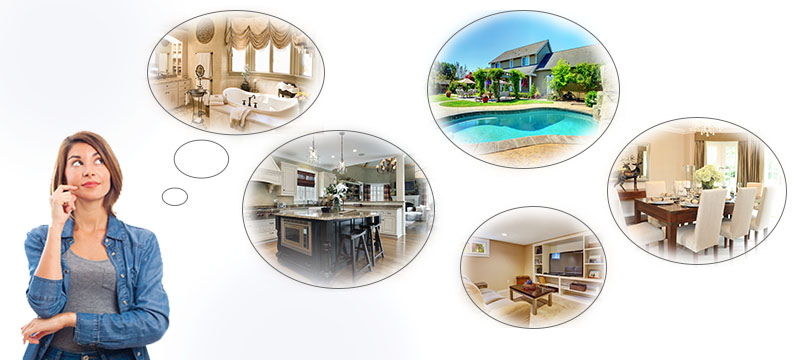 How Could a Free $50K Improve Your Home? Let's Count the Ways!
We've all seen those home makeover shows where a team of professional enters a home, ushers the family away for a few days and voila – transforms a room, basement or backyard into the envy of every home on the block – not to mention viewers at home. Of course, we're all left to wonder just where they found such efficient construction crews and just who was footing the bill for all of that fanciness!
Often times, home makeover shows also leave us wishing for even a fraction of that cash and wondering what we might do if we had the funds to really renovate our own homes.
Well, have you thought about it? What would you do if you had an extra $50,000 to spend on your home? With the Berkshire Hathaway HomeServices Love Your Home Sweepstakes, one lucky winner will get that chance – so, today, we're going to get your creative juices flowing!
Thanks to HomeAdvisor, we found five great ways you could spend $50,000 to renovate your home:
1. Customize a Kitchen that Could Rival Any Top Chef
Talk about a home chef's dream come true! A $50,000 kitchen remodel can include everything – yes, even the kitchen sink! This kind of major kitchen renovation certainly allows for high-end, industrial-grade appliances, granite countertops, custom cabinets, new flooring, extra lighting and even a working island!
2. Create Your Own Day Spa in Your Bathroom
With $50,000, you wouldn't even have to choose just one bathroom to remodel! HomeAdvisor estimates a high-end bathroom renovation at around $20,000, so you literally may be able to create your own at-home day spa! Think new bathtubs, showers, cabinets, countertops and flooring. You also could upgrade sinks, mirrors, light fixtures and more!
3. Finish the Basement with "MTV Cribs" Style
Depending on what you've got to work with in the basement, $50,000 could be easily spent! An unfinished basement could require electrical or plumbing work. It may also be necessary to build walls and add flooring. And, those are just the basics. Then, you've got to think about how you'd like to use your renovated basement! You could build the coveted man-cave, complete with the big-screen TV, stadium-seating, pool table and wet bar. If you're into fitness, a newly-finished basement could make for an awesome at-home gym. If you frequently entertain guests, you could create additional bedrooms and living space there, too. The possibilities truly are endless!
4. Eliminate the Need for Vacations by Creating an Outdoor Oasis
If you thought a basement reno got your mind wandering, just think of the possibilities you'd have with $50,000 to spend on your home's great outdoors! Obviously, practical items like a fence, patio, deck or landscaping may be your first choices. But, then you can get creative! Things like a fire pit, hot tub, swimming pool, gazebo, outdoor kitchen or custom playground could be on your list and definitely would be in the budget!
5. Upgrade Everything – from the Windows to the Floors to the Walls!
Now, who says you've got to spend your $50,000 home renovation money all in one place? After all, $50,000 could do A LOT for your home, right? So, pick a few projects that you'd like to complete. You could add hardwood floors throughout your home; update all of your light fixtures; upgrade your appliances; repaint the entire house; install solar panels; call in an interior designer and actually take his or her advice… and, these are just a few ideas of what you could do with $50,000 to renovate your home!
Stop dreaming and start designing your renovations! The Berkshire Hathaway HomeServices Love Your Home Sweepstakes is going on now through June 17th. Visit the above link to find out how you can win that $50,000 grand prize or a $2,500 weekly prize today!