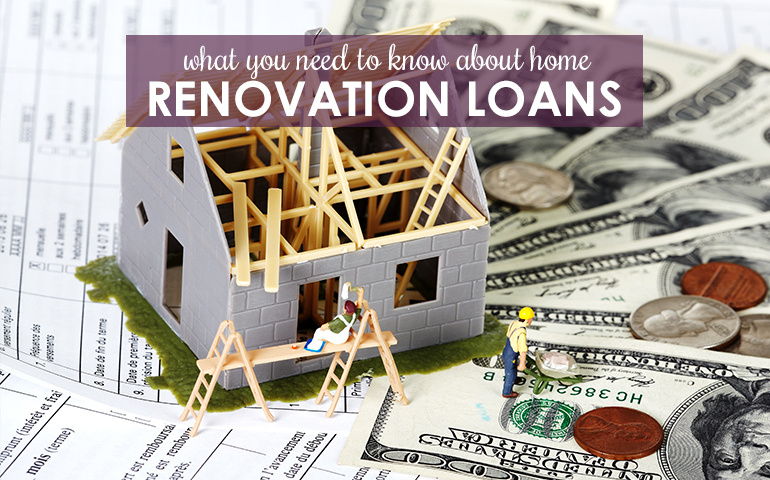 Before You Borrow, Understand Home Renovation Loan Options
A screened-in patio, updated countertops, and new flooring… summer is often the season when people decide to make major renovations to their homes. Do you have big plans for your home, but are not sure you have the proper funds to make them happen? There may be financial help to get your project from demolition to done.

There are many types of home renovation loans that are designed to help homeowners pay for the costs associated with making upgrades. Here are some of the top features of popular home renovation loan options:

FHA 203K Loan
This federally-funded home renovation loan is designed for home buyers who decide to buy fixer-upper homes. This loan not only allows borrowers to mortgage the price of a home, but it also allows homebuyers to borrow additional money to make needed repairs to the home. Perks of obtaining this particular mortgage include a lower credit score requirement and lower down payment amount. If you think this option sounds like the home renovation loan you need, you can find available lenders through the U.S. Department of Housing and Urban Development.

Home Equity Loan
If you're a current homeowner who wants to make improvements to your home, you may consider a home equity loan or second mortgage. With this one-time lump sum private loan, you lock in an interest rate and make set payments for the duration of the loan. The catch with this type of renovation loan? You're putting your own home up as collateral. So, if you fail to make payments, your lender may end up owning your home.

Home Equity Line of Credit
Similar to a home equity loan, with a home equity line of credit, or HELOC, you put your own home up for collateral. But, instead of disbursing your funds at one time, a HELOC allows you to borrow the amount you need when you need it. For home renovations, this can be good when large payments are due during your construction timeframe.

Cash-Out Refinance
If you are a long-time homeowner with built-in equity, you may consider refinancing your home. When you refinance, instead of taking out a second mortgage, you simply replace your original mortgage with a new one. You receive your home's equity at closing to make any needed repairs or renovations. In exchange, you take on new payments, a new interest rate and a new payback period.

Personal Loan
Though not always intended for home improvement purposes, you can take out a personal loan to complete your summer renovation plans. A big differentiator here is that your home is not held as collateral against your loan. The loan payback period is also typically much shorter with a personal loan. Finally, with this borrowing option, your credit plays a greater role in how much you are able to borrow.


If you want to make improvements to your home this summer, but are not sure you have the cash on hand to pay for completing your project, consider one of these options for your home renovations.