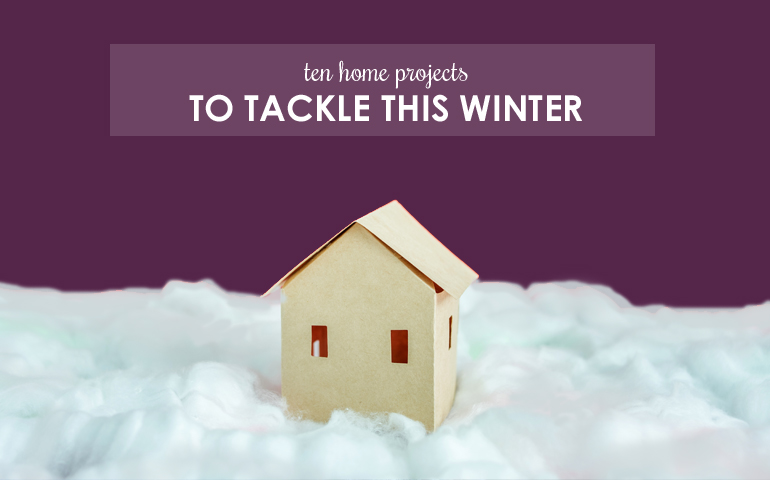 10 Home Projects to Tackle This Winter
Instead of caving into the cold-weather blues, use your time inside this winter to tackle some projects around the house. Take a good look around and you're sure to find some room for renovations.

If you're having a hard time choosing what projects to do, let us help. Here are 10 home projects that you can do in snow, sleet, ice or any other weather winter might bring:

1. Install Smart Technology
Tis the season for smart technology on sale! If that jolly man in the red suit happens to bring you any smart gadgets for your home, winter is the perfect time to install and get used to using them. A smart thermostat could help you save on heating costs during this cold season. A smart doorbell can add safety and help you make sure you're properly tracking any packages that you might have coming to your home. If you've been considering smart home technology, take advantage of your time indoors to bring your home up to speed.

2. Upgrade Lighting
If you're not quite ready to dive into the latest smart technology, you could take a small step toward more efficient technology by replacing outdated lighting in your home. Using energy-efficient light bulbs will help you save on energy costs, no matter how much you use your bulbs.

3. Paint
This is a classic winter home project that simply had to make our list. Following the holiday rush, pick a room or rooms in your home and transform them with new paint. You can change the look of a room with a bold new color or simply spruce a room up with a fresh, clean coat.

4. Clean Your Windows
Yes, winter weather can be frightful. But it also can be quite beautiful. Make sure you can see that freshly fallen snow while you're nice and cozy inside your home. Take a day and clean your windows. Your view of winter's beauty will be much clearer and streak free.

5. Seal Air Leaks
As you're going around cleaning the windows in your home, you can tackle another great winter home project. Keep track of any air leaks you might feel along windows and doors. Seal up any gaps to add greater efficiency and comfort to your home.

6. Insulate Walls and Pipes
Another way to make sure no warm air escapes your home this winter is to add some insulation. Have a professional contractor assess your home to make sure you have adequate insulation in your attic. Be sure to check interior pipes too. The last thing you want to deal with is a pipe that bursts during winter.

7. Add a Backsplash
Once you take care of those maintenance-related home tasks, think about how you might like to upgrade your home this winter. Kitchens and bathrooms are a great place to start when you're thinking about renovations. While the weather outside is cold and miserable, coop yourself up inside creating an awesome tile backsplash!

8. Regrout Tile Floors
Speaking of tile, winter is a great time to give yours some fresh grout. Regrouting the tile in your bathrooms could make them look new again. If you're going to tackle this project, make sure to clean out your current grout first. You don't want to add on to old, dirty grout.

9. Install Crown Molding
If you're not feeling up to getting down on your hands and knees to regrout tile flooring, look up a bit. This winter might be the perfect time to install the crown molding you've been thinking about in your dining room or family room. This indoor project is sure to add some major appeal to your home.

10. Declutter
If you have time to tackle every task on this list, the chances are good that spring will be arriving soon. So, why not get a head start on your spring cleaning in winter? Take advantage of any time stuck indoors and clean out your closets, drawers and any other storage areas that have become congested during the cold weather.