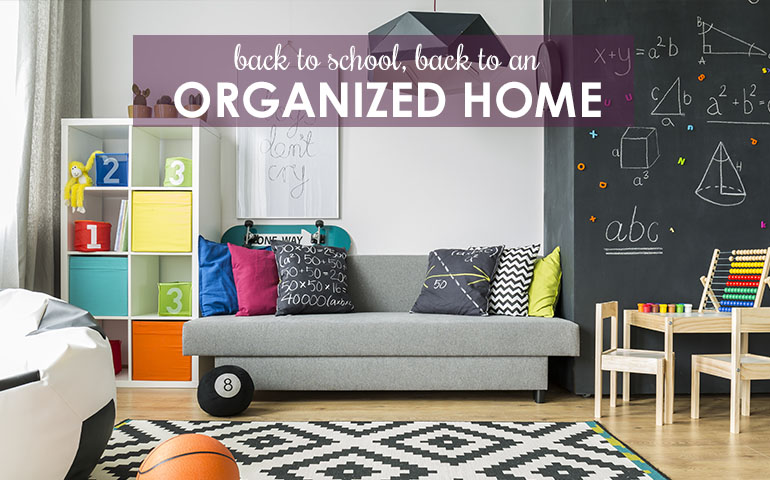 Back to School = Back to Order and Organization at Home
Now that learning institutions from preschools to colleges are back in session, it is time get the kids on the bus, and tackle one of the tasks that simply could not get done amidst all of the summer fun. Since the kids are out of the house now, you can postpone it no longer—it's time to organize the house.
Don't know where to start when it comes to organizing? Don't worry! We're giving you a guide to organizing three highly-used areas of your home this back-to-school season.
Embrace the Entryway
With school back in session, you've likely got frequent traffic coming in and out of the house. So focusing on your front door first is a great place to start. Instead of letting the mail pile up when you walk in the door, give yourself some space (and a couple bins) to sort incoming and outgoing mail. The kids are going to be dropping backpacks and coats as fall's chill hits the air. Unless you want to be tripping over those much-needed items each day, make sure you have available space on your coat rack or in a nearby closet! Finally, invest in a decorative shoe rack or create personalized shoe bins to store a few pairs of each family member's favorite shoes. This will ensure that no unnecessary tears are shed when trying to get out the door each morning.
Clean Out the Closets
You've done the back-to-school shopping, but have you made space for those hip new clothes in your closets? Start this cleaning task with a little decluttering. After all, the kids are out of the house during the day now. It's a great time to clean up those seldom-used toys and hardly-worn clothes that just take up too much space.
To declutter efficiently, vow to take only one look at each item. Decide how and when you'll use it or wear it. If you can't quickly determine its use, it is time to part ways. Plan to sell or donate the items that you are going to part with and separate them into piles accordingly. Then, make a donation or have a sale and neatly restock your closets.
Get Crafty in the Kitchen
This time of year, kitchen countertops are used just as much for homework as they are for cooking. Since many family members may be spending a little extra time in the kitchen, make sure it is clean! Got disarray in your drawers? Stop digging through a sea of utensils. Instead, sort through and throw out the ones you don't use. Organize the remaining utensils with separators or bins. You may even find yourself wanting to cook a little more now that you can find some of your old favorites!
Apply that same sorting procedure to your pantry, too. It will make your morning breakfast routine and afternoon snack time go smoothly. Group cereals and breakfast foods together. Place pastas (yes, even the mac and cheese) on another shelf. Keep your canned goods together. Once you're done, you'll be amazed how great you'll feel when you open that pantry door!
With these high-traffic areas of your home now neatly organized and ready for back-to-school season, you can start to think about getting those fall decorations out of storage. After all, you know you've already seen that pumpkin spice coffee creamer at the grocery store!