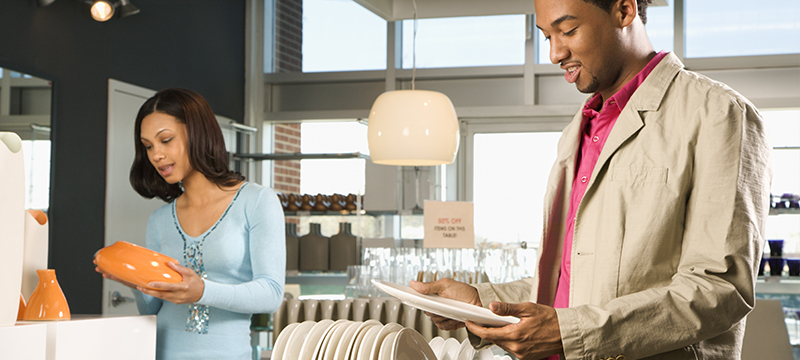 You Paid WHAT?! Five Home Items Not Worth the Splurge
Do you subscribe to some of those fancy home décor magazines or even simply receive Pottery Barn and Restoration Hardware catalogs in the mail? It is easy to get wrapped up in the awesome designs pictured and splurge on trendy home décor items in hopes that your home may mimic even a corner of what you see on those pages.
The downside of trying to stay atop the latest home décor trends? Buying some of the most high-end, latest and greatest designs may quickly empty out your bank account! But, there is help for keeping your home stylish on a modest budget. Yes, you can find a happy medium when it comes to decking your home in the latest décor – without paying the highest dollar!
Here are five areas of home décor that simply aren't worth the splurge:
1. Seasonal Designs: When you live in a place where you're lucky enough to enjoy all four seasons, who doesn't want their home to reflect all of the brilliant seasonal hues? But, that is no reason to buy top-of-the-line cloth napkins just because fall is nearly here! If you're changing out some of your home décor to match each season, moderately-priced, lower-quality décor items will do the trick! After all, you'll only be using them for a few months out of the year!
2. Accent Accessories: If you're anything like us, you like to change out your home's throw pillows and blankets about as frequently as the seasons change. Couple that little home design addiction with a few less-than-tidy small children or pets and you simply cannot justify spending hundreds of dollars on these decorative items. Instead, take advantage of great accessory finds at stores like T.J. Maxx and Target for more budget-friendly, trendy designs.
3. Dishes and Drinkware: Never thought of your casual dining ware as seasonal? You could! We know many families like to have a nice set of fine china to pull out on special occasions. We also know that those pieces are perfect for wedding registries, but not necessarily for your wallet. For everyday use, you can show off your personal style without breaking the bank by selecting budget-friendly options. The same goes for drinkware. If you love entertaining, you know that a great evening can equate to a few broken glasses (Hey, we're just being honest!). Go simple instead of splurging when it comes to your stemware. Classic pieces will look… well, classic – regardless of their price tag!
4. Wall Art: Are you noticing a trend here? For the home décor items you're frequently replacing, it just doesn't make much sense to spend, spend, spend. Next, think about your tastes in wall art. Do you have an all-time favorite painting or does decking your halls with photos of family and friends make you happier? If so, go with photos and shop home décor stores that have aisles and aisles of artwork that you can buy for a fraction of the price a serious art collection might cost.
5. Small Furniture: Finally, we're talking about giving some of the current pieces in your home a little longevity and this is an area where we love to employ a little green thinking. When it comes to your home's end tables, night stands and even storage bins, reuse, reuse, reuse! Remember that old cedar hope chest your parents got you when you graduated high school – the one with the farmhouse-cute kittens painted on that you've conveniently been storing in your basement? Give it a fresh, stylish transformation into your current tastes with a couple coats of paint! You'll add instant longevity and style for only a few dollars. The same goes for small tables you may find at antique stores or vintage shops. When a new trend emerges, simply repaint!
How can you be a cost-effective, forward thinker when it comes to trendy home décor? Know when you don't need to splurge! Trends come and go, so buying the most expensive items just doesn't make the most sense when you'll likely replace them or want to infuse your home with a new trend in the near future!