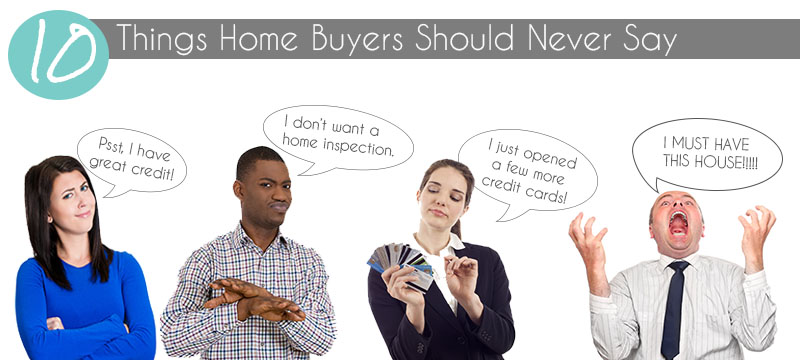 Home-Buyers Beware: 10 Phrases to Never Say During the Buying Process
As the hot summer buying and selling season really begins to sizzle, eager buyers are putting on their game faces, scouting for homes and making offers once they find one that's right for them. But, if you're new to the home-buying game or maybe you haven't played an active role in the real estate world for a while, you may want to be aware of a few things that you just should not say… like, ever.
Here are 10 things that no home buyer should ever utter:
1. I don't want to commit to just one agent. A buyer's real estate agent can and should do everything in their power to help them find the next home of their dreams. Because they will tirelessly work their contacts and marketing tools, real estate agents typically want to know that they're the only ones working for a buyer. If a buyer can't commit to an agent, an agent may be more inclined to assist another buyer who already has made the commitment.
2. I do not have pre-approval or I will get pre-approved later. Uttering this statement can rule out even the most potentially-qualified buyer. While a pre-approval letter is not a guarantee that a buyer can afford a new home, it is a guarantee that they are a serious about the purchase and worth any seller's consideration.
3. Yes, I am pre-approved; and, I am pre-approved for X amount. On the other end of the spectrum, talking too much about pre-approval can harm a buyer, too. A lender is certain to pre-approve a buyer at the top of their spending limit. So, if the buyer finds a home that's well below that limit, but they've already talked about how they can afford so much more, they may lessen negotiating power.
4. I MUST have this home. Speaking of lessening any bargaining power, if a buyer can't stop saying just how much they want and need a home, they may end up with little to no wiggle room when it comes to selling price. After all, a seller, particularly one who is fielding several offers, may want to find out just how far a buyer is willing to go for a home that they MUST have.
5. Well, we really don't need X, Y or Z. If X, Y and Z include a third bedroom, an extra bathroom or work-from-home office space, do not even go there. If your future plans include children or expanding a start-up business, these X, Y and Z items are not things you can sacrifice when you're looking for a new home. Don't even consider a home that cannot accommodate even your short-term plans.
6. Let's just skip the inspection process. Once a buyer makes it past the bargaining stages, the closing process begins; but, that does not mean that they are in the clear. With closing comes several inspections and each one is important in its own way. No matter how much a buyer loves a home, it is a TERRIBLE idea to skimp on the inspections. A home may appear to be in perfect condition, but if an inspector finds hidden issues, the cost of repairs could outweigh all of that new-home happiness.
7. I just bought a new car, opened a credit card or made some other large purchase. When you're going through the mortgage approval process, your credit is under a microscope. A home is certainly one of the largest purchases that a person will ever make, so don't let a short-term purchase ruin your long-term goal of home ownership.
8. I have great credit… (when you really do not.) Less than perfect credit is not the end of the world when it comes to mortgage approval; but, it can be a hurdle and being less than honest about your credit situation can be a deal-breaker with mortgage companies. Instead of trying to cover up past credit indiscretions, own up to them and show a lender what you're doing to improve your credit score.
9. I'm usually a few weeks late with my credit card payments. Yes, a lender is going to see every aspect of your financial picture, but the last thing you want them to think is that you will be unable to make your mortgage payments on time. While you don't want to lie about your credit situation, it is not necessary to give further reason for lenders to delve into your finances.
10. I just changed jobs. Though sometimes career changes are inevitable, if a career change during the closing process can be avoided, it absolutely should be. When it comes to final mortgage approval, a buyer's overall financial picture should be all about stability. A job change can appear unstable and that may discourage a lender from granting mortgage approval.
Many times, it has been said that the customer is always right; but, when it comes to the home-buying process it is absolutely wrong for a buyer to utter certain phrases. Whether they may have a negative impact on sellers, real estate agents or lenders, there are just certain things that buyers should leave unsaid.
If you're planning to buy a home and you need some help on what to say and what not to say while you're going through the process, contact an experienced Berkshire Hathaway HomeServices The Preferred Realty agent today.