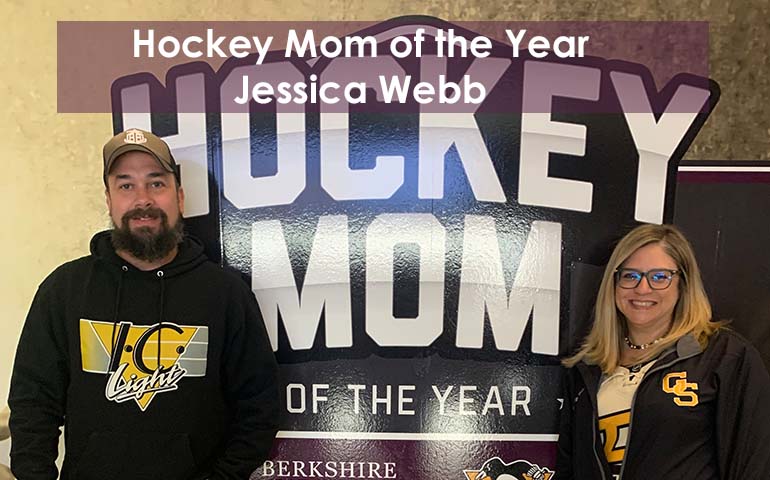 Hockey Mom of the Year: Jessica Webb
On behalf of Berkshire Hathaway HomeServices The Preferred Realty and Stouffer Realty and The Pittsburgh Penguins, it was a great honor to recognize Jessica Webb as Hockey Mom of the Year at last night's Penguins vs. Blackhawks game.

Jessica was, of course, our Hockey Mom of the Month for February, 2023. A Greensburg native, Jessica is the current President of the Greensburg-Salem High School Hockey Club (players are ages 5-18) and has cheerfully occupied that position for the last 3 years. As a long-time board member, serving as the Ways and Means Chair, she organizes the fundraising for the entire organization.

Her family lives for the ice and have been very supportive of her endeavors. Her 17-year-old son, Hunter, has played for the GS Lions Varsity team since his freshman year. Her daughter Brylee, 13, currently plays for the Greensburg-Salem Middle School Team and both play travel hockey for the Allegheny Badgers.

When she's not focused on her hockey duties, she also works full-time in a supervisorial nursing position for UPMC Health Plan Insurance in the Clinical Operations Utilization Management Department. If you're already trying to figure out where she fits in sleep, there's one more little detail we've neglected to mention. She's also working towards finishing her Master of Science and Nursing degree in Administration and Leadership through Capella University.

Besides being a busy mom, nursing supervisor, and head of a hockey organization, Jessica has been known to give back to her family and community in other ways. More specifically, she donated her left kidney to her ailing Aunt Jackie in the summer of 2020.

We'd like to take a moment to give a huge shout out to all the Hockey Moms we recognized this year. Each and every one of them are pillars of their respective communities, whose hard work, determination, selflessness, and courage are truly awe inspiring. Alas, there can be only one Hockey Mom of the Year. Congratulations Jessica!