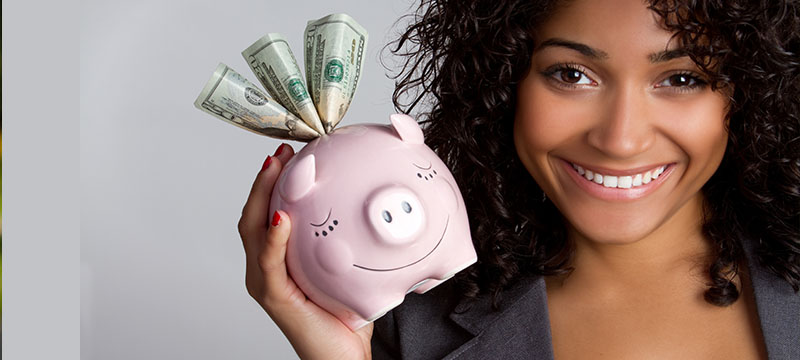 Headed to College? Here's How You Can Save Money
It is summer vacation for most college students around the country and that may mean anything and everything from summer internships to impulse road trips. And, why not?! Many working professionals may agree that their college years were some of the most carefree times in their young adult lives.
Because, after college, comes a not-always-so-inviting welcome into the real world of careers and, often times, paying back student loan debt. To help make that transition a little more welcoming, there are some ways that students can save some money during college. That way, they're prepared for the more-coveted things in adult life… you know, like financial stability and home ownership!
Here are 10 ways to save money while you're in college:
1. Recycle textbooks. It actually can be shocking to see what a brand new college textbook costs. However, in many cases, students are able to purchase gently-used textbooks that are sure to get them through the semester with a much lower bill. When you're done with the book, return the favor and sell it back to the book store for an added discount!
2. Limit happy hours. And, parties and alcohol consumption in general. Whether you've got a refined taste in cocktails or you prefer cheap beer, it is easy to spend too much money on alcohol. And, if we're going to get all "Mom" on you now, too much alcohol is not only bad for your bank account, but it also is bad for your health!
3. Live with roommates. Whether you choose to live on or off campus, having a roommate or two can help you save money in several aspects of your life. Of course, there is an obvious housing discount, but having roommates also can diminish costs on everything from utility payments to grocery bills.
4. Plan your meals. We're not talking about mapping out a week's worth of dinners and prepping them all on Sunday night, but take a close look at how often you'll visit your college cafeteria and how often you may eat in your room. Don't overspend on your meal plan or buy groceries you simply don't need.
5. Use your student discount. When you buy anything on-or-off campus, take advantage of the fact that you're a student. Many retailers recognize your efforts with a percentage off of their products! Know which stores near your school offer student discounts and give them your business!
6. Invest in a coffee pot. OK, so let's not get too crazy with that student discount. Coffee is a common staple for college students, but grabbing a cup at Starbucks or any other coffee shop quickly adds up… in a negative way. Make your coffee in your room and you'll be able to enjoy more coffee for less money!
7. Don't drive. Walk, carpool or use public transportation as much as you can while you're in college. If the options are there, there is no reason to use your gas or put mileage on your car – if you even have to bring one to campus!
8. (If you must) Have a credit card; but, pay it on time. From the minute a college freshman steps on campus, they are flooded with "attractive" credit card offers. Yes, having a credit card can help build good credit (which will pay off for years to come). But, having a credit card also can be a dangerous way to accrue even more debt while you're in school. If you get a credit card, use it responsibly and pay it off on time every month!
9. Get a job. From the student union to the library to the gym and the dorms, there are available on-campus positions where students can make some extra money. Becoming a resident advisor is an awesome resume builder that significantly cuts down on college costs, too!
10. Study. Study. Study. Obviously, there are a lot of costs associated with college, so don't waste the bulk of what you're spending by not taking your education seriously. Study; get good grades; and, make lasting connections with your instructors. These three tips will make it much easier for you to enter the professional world when you graduate. Emerging as a well-prepared, well-educated individual can help you land a warm welcome into the professional world…
And, that could pay off for years to come!
This post is sponsored by PA Preferred Mortgage:
Pennsylvania Preferred Mortgage is a full service mortgage banker and is a member of the Prosperity Home Mortgage, LLC family. Specializing in residential and refinance loans, Pennsylvania Preferred Mortgage offers a wide range of mortgage products, including fixed and adjustable rate mortgages, jumbo loans, Federal Housing Administration (FHA) and Veterans Affairs (VA) loans, and renovation financing. Learn more at www.papreferredmortgage.com.