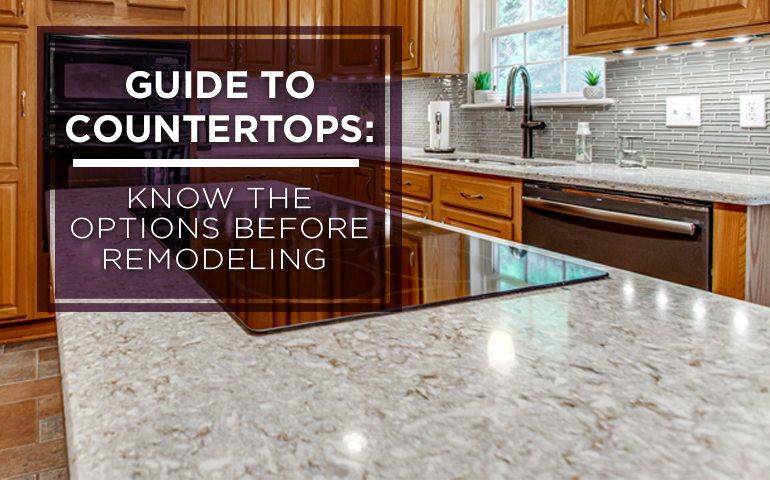 Guide to Countertops: Know the Options Before Remodeling
Are you looking to replace your kitchen or bathroom countertops? Have you taken a look at your options? There are a lot of options for beautiful and affordable countertops besides laminate or granite. Check out the tips below for countertop options that won't break the bank.
Quartzite
For anyone who loves the look of marble and granite but needs something a little sturdier, quartzite can be a great alternative. Quartzite is also harder than granite and marble, so it is quite durable and it withstands heat very well and would be a great option for someone who loves to cook or has children! Quartzite has one of the highest ratings on the hardness scale and does not etch with acidic foods.
Marble
If you are looking for a beautiful countertop that is functional, marble might be your go-to material. Marble is unique and offers many different hues and colors that you can match to the style of your home. It is porous so it is not scratch or stain proof, but if you are an avid cook, marble might be a great choice for you. Marble has long been favored by professional chefs and home bakers because it stays cool, making it ideal for rolling out pastry. It is even heat resistant!
Granite
Granite is one of the most popular countertop options for many reasons. Granite countertops are more durable than other countertop options like Formica, and it stands up well to regular wear and tear. Because granite is such a hard material, it resists scratches–cutting on it will damage your knives, but not your counters! Another advantage granite has over other materials is that it resists heat. This makes it ideal for use near a cooktop or range. Granite countertops can also save you a lot of worry about where to set down hot pans.
Quartz
Quartz countertops are relatively new, but they've grown in popularity because of their attractive appearance, durability and the fact they don't have some of the weaknesses of natural stone. Quartz is a manufactured product that can be very attractive. The manufacturing process allows a much wider range of colors than you'll find in natural stones such as marble or granite. For a contemporary, upscale look with very low maintenance required, quartz countertops are definitely worth considering.
Soapstone
Soapstone is a natural stone material that has been used for centuries in countertops. Its appearance gives it a rustic feel when compared with the urban and elegant look of granite or slate. Soapstone is also very easy to clean because it is non-porous. All you will need is a mild dish soap and a rag! Soapstone countertops are worth considering if you want a natural stone that is low-maintenance and quite hardy. It's limited in color from white to charcoal – you won't find pinks, blues or greens for example—but if that range fits your design scheme, this high-quality countertop material should give you 20+ years of attractive, hardworking performance.
Before you remodel make sure you do the research on what material you want to use on your countertops. From quartzite to marble there are so many options that will fit perfectly in your kitchen or bathroom.
Have you heard about our New Neighbor Program? Berkshire Hathaway HomeServices Stouffer Realty Services can offer its clients exclusive discounts from area vendors, including Ultimate Granite, through our New Neighbor Program. Want to know more? Ask your real estate agent for more information!
Berkshire Hathaway HomeServices does not endorse any of the products or vendors referenced on this material. Any mention of vendors, products, or services are for informational purposes only.