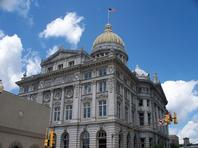 Greensburg and Latrobe – The Best of the "Burgh" and the "Burbs"
If you like the idea of having access to everything the city of Pittsburgh has to offer, but know you're not interested in living downtown or in one of the city's closest suburbs, the Westmoreland County cities of Greensburg and Latrobe may be exactly where you would like to call "home."
Located just southeast of Pittsburgh, Greensburg and Latrobe offer the conveniences of city-living with incredible rural appeal. Safe, vibrant and historic are three adjectives used to describe the area; and, reasonably so, since Greensburg has recently been named one of the best areas to retire by U.S. News and World Report.
But, retiring is certainly not what families have in mind when they flock to the area.
Top-ranking public school districts, like Hempfield Area, and numerous private institutions, like Greesnburg Central Catholic and the Aquinas Academy, may be. Or, perhaps, it is the various colleges and universities located in the area. The University of Pittsburgh at Greensburg is consistently ranked among the area's top higher education institutions; plus, Seton Hill University and Saint Vincent College both thrive in the region. Further heightening the appeal, each year, the Pittsburgh Steelers utilize Saint Vincent College during NFL pre-season training camp.
Aside from incredible educational opportunities, Greensburg and Latrobe boast an immense cultural presence as well. The Westmoreland Museum of American Art and the Palace Theater are just two of the Pittsburgh suburbs' treasures. The area is home to the Westmoreland County Symphony Orchestra and the Summer Sounds Concert Series, too.
Truly, there is something for everyone in Greensburg and Latrobe. Business people seek out the industrial and service industry careers in the area. Others enjoy shopping at the Westmoreland County Mall or one of the many traditional downtown retailers. Still, others may thrive on biking along the Five Star Trail, which is to eventually connect to the Great Allegheny Passage. Finally, families and couples alike can cool off at nearby Idewild Park and Soak Zone, tee off at Latrobe Country Club or escape to Keystone State Park. For an even greater getaway, the Westmoreland County cities offer great rates at the Arnold Palmer Regional Airport.
Westmoreland county residents and visitors also rave about the Pittsburgh region's dining options. Vallozzi's Restaurant and Jioio's Restaurant are local Greensburg favorites, while Sharky's and Dino's in Latrobe are known throughout the area for their unbeatable wings.
Education, culture, recreation and history… what more can you ask for when you're looking for a home in Pittsburgh? Greensburg and Latrobe offer residents all of that and so much more. Search available homes in Greensburg and Latrobe now.